RELEASE 2/17/07
FOR IMMEDIATE RELEASE: Mansfield men keep playoff hopes alive with 85-71 win over West Chester – Terrance Williams scores a team high 16 points on Senior Day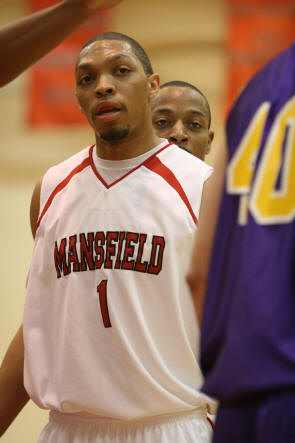 MANSFIELD – Terrance Williams, Mansfield's lone senior, celebrated Senior Day at Decker Gymnasium by leading four Mountaineers in double figures with 16 points to propel Mansfield to crucial 85-71 win over West Chester Saturday afternoon.
"It was a good win," said head coach Rich Miller. "It makes the next two games huge. We had a lot of guys step up and make big plays and in this conference making big plays is what wins big games."
The two teams were locked in a close for the first 15 minutes of the game before Mansfield broke a 27-27 tie with a 17-3 run over the last 5:18 of the first half to take a 44-30 lead into halftime.
"We got a big lift off the bench," Miller said after the first half performance. "You get 16 points off the bench in the first half and that changes the complexion of things."
Not only did the Mountaineers get 16 points from their bench in the first half, they also surprisingly outscored a much taller West Chester team 22-12 in the point and hit 60% of their shots from the floor.
Williams, who was honored in pregame ceremonies, scored 10 of his 16 points in the first 20 minutes including two big 3-pointers.
"I really wasn't nervous at all" Williams said. "I just wanted to get things started. It was a big win for us because it keeps us right in the playoff picture while a loss would have probably taken us out of it."
Mansfield continued it's impressive play going on a 14-3 run over the first five minutes of the second taking a 58-33 lead on Chris Pender's 3-pointer at the 15:24 mark. The Mountaineers would increase the lead to as much as 26 points taking a 66-40 advantage on a layup by Jovoun Webb with just over 12 minutes to pa=play.
But over a two minute span starters Kevin Hill, Brandon Lawley and John Hampton all picked up their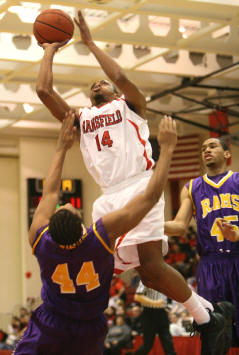 fourth personal fouls sparking a West Chester run that closed the gap to 78-67 with 2:02 to play.
Mansfield would then hit 7-8 free throws, including a 4-4 performance by Chris Greene over the last two minutes to ice the game.
The Mountaineers hit 13-of-21 3-point attempts outscored the West Chester bench 29-5.
Williams, who connected on four 3-poiners, also dished out three assists in playing 36 minutes. Chris Greene scored 14 points including 6-6 on free throws while John Hampton and Jovoun Webb each scored 13 points. Webb also pulled down nine rebounds.
Len Greenwood had a double-double for West Chester (13-11, 5-5) scoring a game high 21 points while pulling down 10 rebounds. Donnell Butler added 16 points with Shawn Werdt adding 14 points and Aaron Williams 11.
Mansfield improves to 5-5 in the PSAC East and 9-15 overall. Going into tonight's Millersville East Stroudsburg game, Millersville leads the PSAC East with a 6-3 record with Cheyney and Kutztown at 6-5. Mansfield and West Chester are 5-5 and East Stroudsburg 4-5. Kutztown beat Cheyney this afternoon.
Mansfield, which travels to Pitt-Johnstown for a makeup game on Monday, hosts East Stroudsburg on Wednesday before closing the regular season at Bloomsburg next Saturday.
Newspaper Box Score
West Chester University vs Mansfield University
2/17/07 3:00 PM at Deker Gymnasium, Mansfield, PA
At Deker Gymnasium, Mansfield, PA
MANSFIELD UNIVERSITY 85, WEST CHESTER UNIVERSITY 71
WEST CHESTER UNIVERSITY (13-11 (5-5))
Greenwood, Lenwood 8-12 4-9 21; Butler, Donnell 7-16 2-2 16; Werdt, Shawn
5-11 0-0 14; Williams, Aaron 4-6 3-4 11; St. George, Kenneth 0-7 4-4 4;
Scott, Sam 1-2 1-2 3; Geiger, Anthony 1-1 0-0 2; Wingerd, Nathan 0-3 0-0 0;
Stokes, Kevin 0-2 0-0 0. Totals 26-60 14-21 71.
MANSFIELD UNIVERSITY (9-15 (5-5))
WILLIAMS, Terrance 6-11 0-1 16; GREENE, Chris 4-6 6-6 14; HAMPTON, John 3-7
4-6 13; WEBB, Jovoun 6-10 0-1 13; HILL, Kevin 3-6 0-0 9; PENDER, Chris 3-4
0-0 7; SMITH, Brandon 3-5 0-0 6; LAWLEY, Brandon 2-7 0-0 4; LUARASI,
Dhimitri 1-1 0-0 3. Totals 31-57 10-14 85.
West Chester University....... 30 41 - 71
Mansfield University.......... 44 41 - 85
3-point goals-West Chester University 5-19 (Werdt, Shawn 4-8; Greenwood,
Lenwood 1-2; St. George, Kenneth 0-3; Wingerd, Nathan