RELEASE DATE: 2/21/07
FOR IMMEDIATE RELEASE: Mountie Men Drop Heartbreaker in OT
MANSFIELD – Mansfield was outscored 18-10 in overtime as East Stroudsburg went on to win 87-79 Wednesday night in a PSAC East game at Decker Gymnasium.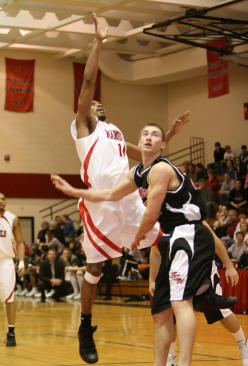 The Warriors jumped out to a 16 point advantage with 5:29 to play in the first half before Mansfield went on a 16-2 run to bring the score to 35-33 with just over a minute to play.
East Stroudsburg maintained a five point lead at the half at 38-33.
The Mountaineers opened the second half on a tear pulling to within one point at 42-41 with 16:49 to play before the Warriors went on a 14-1 run to regain a 11 point lead with just under 10 minutes to play.
The resilient Mountaineers would claw back into the game once again when they went on a 12-0 run sparked by a John Hampton jumper and capped off by a 3-pointer by Terrance Williams to put the Mounties on top 57-55 with just under five minutes to play.
Mansfield trailed by two on the final possession of the game until Brandon Lawley tipped in a rebound to notch it even at 69-69. John Hampton came up with a big defensive play when he blocked the Warriors last second shot attempt to send the game to overtime.
In the overtime period, Murvin English knocked down 8-of-8 free throws as East Stroudsburg pulled away from the Mountaineers to secure a 79-87 victory.
John Hampton led the Mountaineers with 17 points while Chris Greene and Terrance Williams each had 16 points. Kevin Hill added 13 points while Brandon Lawley added nine points and pulled down 13 rebounds.
Channon Easley led five players in double figures for the Warriors with 16 points and 11 rebounds.
The Mountaineers shot 36.4% from the field while East Stroudsburg shot 49.2%.
With the loss, the Mountaineers fall to 9-17 and fall below .500 in the PSAC East at 5-6 while East Stroudsburg improves to 17-9 and 5-6 in the PSAC East.
The playoff picture is cloudy now as the Mountaineers will need to win their final game at Bloomsburg on Saturday and get help from other PSAC schools as there could be multiple tie-break scenarios.
The Mountaineers can clinch the number three seed in the East with win over Bloomsburg Saturday AND a West Chester loss at Millersville Saturday AND an East Stroudsburg loss against Kutztown Friday night.
The Mountaineers can clinch the number four seed with a win at Bloomsburg Saturday if West Chester wins on Saturday AND Kutztown wins on Friday.
If East Stroudsburg and West Chester win, the Mountaineers will be eliminated from contention.
The Mountaineers play their final game of the season Saturday when they travel to Bloomsburg for a must-win conference showdown. Tip-off is scheduled for 3:00pm.
Newspaper Box Score
East Stroudsburg University vs Mansfield University
2/21/07 7:30 pm at Decker Gymnasium, Mansfield, PA
At Decker Gymnasium, Mansfield, PA
EAST STROUDSBURG UNIVERSITY 87, MANSFIELD UNIVERSITY 79
EAST STROUDSBURG UNIVERSITY (17-9 (5-6))
Channon Easley 6-13 4-6 16; Darron Bradley 4-5 5-12 13; Ronald Louis 5-6 2-2
13; Murvin English 1-5 8-8 11; Andy Heimbach 4-8 0-0 10; Ryan Sweet 3-4 0-2
6; Josh Wentz 1-5 4-4 6; Chris Bach 2-2 0-0 4; Justin Scott 1-5 1-2 3; Pat
Fleury 1-1 1-2 3; Jimmy Evans 1-5 0-0 2. Totals 29-59 25-38 87.
MANSFIELD UNIVERSITY (9-17 (5-6))
HAMPTON, John 7-20 0-0 17; WILLIAMS, Terrance 6-13 2-2 16; GREENE, Chris 4-8
8-9 16; HILL, Kevin 5-14 1-2 13; LAWLEY, Brandon 4-10 1-2 9; WEBB, Jovoun
1-7 2-3 5; PENDER, Chris 1-3 0-0 2; LUARASI, Dhimitri 0-2 0-0 0. Totals
28-77 15-20 79.
East Stroudsburg University... 38 31 18 - 87
Mansfield University.......... 33 36 10 - 79
3-point goals-East Stroudsburg University 4-12 (Andy Heimbach 2-4; Ronald
Louis 1-1; Murvin English 1-4; Josh Wentz 0-2; Justin Scott 0-1), Mansfield
University 8-27 (HAMPTON, John 3-8; HILL, Kevin 2-9; WILLIAMS, Terrance 2-5;
WEBB, Jovoun 1-2; PENDER, Chris 0-2; GREENE, Chris 0-1). Fouled out--East
Stroudsburg University-None, Mansfield University-HILL, Kevin. Rebounds-East
Stroudsburg University 44 (Channon Easley 11), Mansfield University 46
(LAWLEY, Brandon 13). Assists-East Stroudsburg University 12 (Pat Fleury 4),
Mansfield University 13 (GREENE, Chris 6). Total fouls-East Stroudsburg
University 20, Mansfield University 27. A-531