RELEASE DATE: 2/10/07
FOR IMMEDIATE RELEASE: Cheyney pulls away in last two minutes to beat Mansfield 79-71 – Mounties outscored 9-0 over last 88 seconds in loss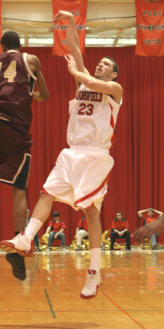 MANSFIELD – Cheyney went on a 9-0 run over the final 88 seconds of the game to rally for a 79-71 win over Mansfield in a PSAC East contest at Decker Gymnasium Saturday afternoon.
"In the end it came down to making plays in the last minutes of the game," said head coach Rich Miller. "They made them and we didn't. We played hard and worked ourselves back into the game, but it's tough to lose a game when you're leading with less than two minutes to play."
Cheyney came out hot and stayed hot in the first half connecting on 62% of their shots from the floor to build a 43-34 halftime lead.
Cheyney led by as many as 11 points early in the second half before Mansfield started chipping away. Kevin Hill hit a 3-pointer at the 16:17 mark to spark a 11-3 run with the Mountaineers taking their first lead on the day 53-52 on a Terrance Williams jumper three minutes later.
Cheyney retook the lead going up 67-61 on a layup by Robbie Simpson at the 7:17 mark but Mansfield came right back taking a 70-67 lead on a pair of free throws by Jevoun Webb with 3:26 to go.
Cheyney tied the game on a pair of free throws with 3:06 remaining with Mansfield retaking the lead on a free throw by Chris Greene with 1:48 on the clock.
It would be the last point Mansfield would score as the Mountaineer missed their last three shots while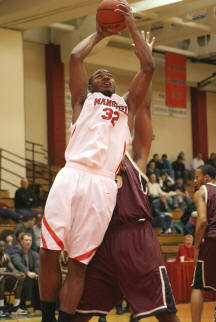 Cheyney went 3-3 from the floor and 2-2 from the free throw line to pick up the win.
Kevin Hill led the Mountaineers with 20 points hitting 6-7 of his 3-point attempts. Brandon Lawley scored 14 points and pulled down seven rebounds with John Hampton adding 11 points.
Ed Braswell scored a game-high 25 points to lead Cheyney (6-3 PSAC East, 12-12) with Dominique Curry scoring 12 points. Robbie Simpson and Tyrone Smith scored 10 points each.
Mansfield falls to 4-5 in the PSAC East and 8-15 overall. The Mountaineers are now in a tie with Kutztown for the fifth place in the PSAC East. the top four teams make the playoffs.
Millersville leads the East with a 6-2 record followed by Cheyney (6-3), West Chester and East Stroudsburg are tied at 4-4.
The Mountaineers travel to UPJ for a non-conference game on Wednesday.
Newspaper Box Score
Cheyney University vs Mansfield University
2/10/07 3:00 PM at Decker Gymnasium, Mansfield, PA
At Decker Gymnasium, Mansfield, PA
CHEYNEY UNIVERSITY 79, MANSFIELD UNIVERSITY 71
CHEYNEY UNIVERSITY (12-12 (6-3))
BRASWELL, Ed 9-17 5-6 25; CURRY, Dominique 5-5 2-3 12; SIMPSON, Robbie 4-11
2-2 10; SMITH, Tyrone 5-7 0-1 10; FRYER, Michael 3-7 2-3 9; MORRIS, Dawud
3-6 1-2 7; McPHERSON, Maurice 1-1 2-5 4; BRAVO, Ogie 1-1 0-0 2; SHELTON,
Anthony 0-2 0-0 0. Totals 31-57 14-22 79.
MANSFIELD UNIVERSITY (8-15 (4-5))
HILL, Kevin 7-13 0-0 20; LAWLEY, Brandon 6-11 2-4 14; HAMPTON, John 5-11 1-2
11; WILLIAMS, Terrance 4-12 0-0 8; GREENE, Chris 2-5 1-2 7; WEBB, Jovoun 2-6
2-2 6; PENDER, Chris 1-3 3-4 5; SMITH, Brandon 0-1 0-1 0. Totals 27-62 9-15
71.
Cheyney University............ 43 36 - 79
Mansfield University.......... 34 37 - 71
3-point goals-Cheyney University 3-9 (BRASWELL, Ed 2-7; FRYER, Michael 1-2),
Mansfield University 8-16 (HILL, Kevin 6-7; GREENE, Chris 2-5; HAMPTON, John
0-1; WILLIAMS, Terrance 0-2; PENDER, Chris 0-1). Fouled out--Cheyney
University-None, Mansfield University-None. Rebounds-Cheyney University 36
(SIMPSON, Robbie 7; CURRY, Dominique 7), Mansfield University 35 (LAWLEY,
Brandon 7; HAMPTON, John 7; WEBB, Jovoun 7). Assists-Cheyney University 6
(FRYER, Michael 2; BRASWELL, Ed 2), Mansfield University 13 (HAMPTON, John
4). Total fouls-Cheyney University 16, Mansfield University 18. A-667