RELEASE DATE: 1/06/07
FOR IMMEDIATE RELEASE: John Hampton Scores Career High 32 Points – Mounties Last Minutes Comeback Falls Short in 82-76 Setback at California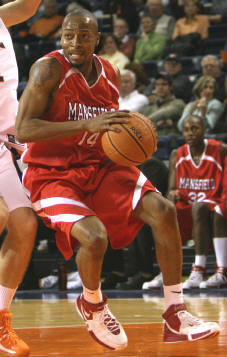 CALIFORNIA, PA – John Hampton (Philadelphia/George Washington) scored a game high 32 points, but a furious Mansfield rally came up short in a 82-76 setback to California in a PSAC crossover contest at Hamer Hall Saturday afternoon.
Rallies were the story of the day for the Mountaineers with Cal jumping out with an 8-0 run to start the game and leading 14-4 seven minutes into the contest.
California led 22-15 with just over five minutes remaining in the first before the Mountaineers rallied to tie the score at 26-26 at halftime on a layup by Kevin Hill (Mansfield/Mansfield). Hampton led the rally scoring seven of his 12 first half points over that span.
The two teams exchanged the lead five times during the first seven minutes of the second half before California went on an 8-0 run to take a 47-40 advantage at the 10:57 mark.
The Vulcans extended their lead to 73-54 with three minutes to play before the Mountaineers went on a furious rally to pull to 80-74 on a Hampton jumper with: 33 to go.
Mansfield just missed a 3-pointer seconds later before Cal's James Petty hit two free throws to ice the game.
Mansfield was out rebounded 42-33 and shot 41.7% from the floor to California's 54.9%. The Mountaineers hit 6-of-15 free throws to the Vulcans 23-31.
Hampton, a junior whose previous career high was a 21 point effort against LeMoyne in the season opener, hit 12-18 shots including 4-6 on three-point attempts. He also pulled down five rebounds while dishing out three assists. Hill scored 21 points, 15 of them coming off 3-pointers. He has scored in double figures for the fifth straight game, averaging 20.1 points per game over that span. Senior Terrance Williams (Harrisburg/Central Dauphin) just missed a double-double with 10 points and nine rebounds.
James Petty topped five California (8-3) players in double figures with 17 points with Ron banks and Theron Colao each scoring 16.
Mansfield (2-9) closes out a tough six game road trip when they host Millersville in the PSAC East opener Wednesday night at Decker Gymnasium. Tip-off is set for 7:30 p.m