RELEASE DATE: 2/24/07
FOR IMMEDIATE RELEASE: Mounties Suffer OT Loss at Bloom -- Eliminated From Playoff Contention
MANSFIELD – John Hampton and Kevin Hill each scored 20 points but a controversial blocked shot that could have been goaltending cost the Mountaineers two points and a win in regulation. With the loss, Mansfield is eliminated from playoff contention for the first time since the 2001-02 season.
"It's a tough one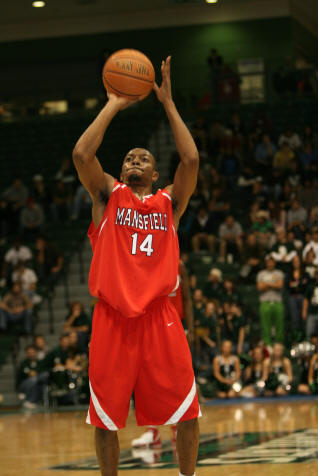 to swallow," said head coach Rich Miller. "Our guys played solid throughout the game. We had our chances at the end but things just weren't falling our way."
The Mountaineers opened the game with a fast-paced 14-2 run but the Huskies would slowly claw back into the contest. Mansfield held a four point advantage at the break with the score at 38-34.
Mansfield would maintain the lead all the way to the 11 minute mark in the second half when Bloomsburg took a one point lead at 54-53. Kevin Hill went up for a lay-up at the nine minute mark that looked like it hit the glass and was headed into the hoop but Bloomsburg's Billy Bryan knocked the ball off course and was credited with a block. Those two points would come back in a big way down the stretch.
The Mountaineers took a one point lead on a 3-pointer from Kevin Hill with just over a minute to go but Bryan tied the game at 75-75 on a pair of free throws with 45 seconds to play.
Mansfield had possession as the clock expired and Chris Greene was fouled with three seconds to play. Greene, who dislocated the pinky on his shooting hand during the first half, missed both free throws to send the game to overtime at 75-75.
The Mountaineers ran into foul trouble in the overtime with Hampton, Chris Greene, and Jovoun Webb all fouled out of the contest as the Huskies took advantage hitting free throws down the stretch to secure the 89-85 win.
Hampton and Hill each had 20 points while Terrance Williams finished with 15 points in his final game as a Mountaineer. Jovoun Webb added 12 points and Chris Pender had 11.
Hill hit five 3-pointers in the game which gives him a final total of 90 3-pointers on the season and moves him into third place all-time for 3-pointers in a season. Hill passed Dave Hoopes who sits fourth with 85.
Nick Jones led Bloomsburg with 31 points including 15 free throws.
Mansfield shot 46.0% from the field while the Huskies shot 45.9%.
Both the Mountaineers and the Huskies are eliminated from playoff contention.


Newspaper Box Score
Mansfield University vs Bloomsburg University
02/24/07 3:00 at Bloomsburg University
At Bloomsburg University

BLOOMSBURG UNIVERSITY 89, MANSFIELD UNIVERSITY 85

MANSFIELD UNIVERSITY (9-18,5-7 PSAC E.)
HAMPTON, John 5-10 9-10 20; HILL, Kevin 6-14 3-4 20; WILLIAMS, Terrance 7-16
0-0 15; WEBB, Jovoun 4-7 4-4 12; PENDER, Chris 4-6 1-2 11; LAWLEY, Brandon
1-5 1-2 3; SMITH, Brandon 1-1 0-0 2; GREENE, Chris 1-4 0-2 2. Totals 29-63
18-25 85.

BLOOMSBURG UNIVERSITY (13-14,5-7 PSAC E)
JONES, Nick 8-9 15-21 31; BURDINE, Jaren 5-15 5-5 17; BRYAN, Billy 6-13 5-6
17; JEFFERSON, Matt 5-8 0-0 10; ROSE, Buddy 2-5 1-2 6; JERRY, Drew 1-7 2-4
4; TRAYKOV, Niko 0-1 2-6 2; HOLSEY, Brian 1-2 0-0 2; ALLEN, John 0-1 0-2 0.
Totals 28-61 30-46 89.

Mansfield University.......... 38 37 10 - 85
Bloomsburg University......... 34 41 14 - 89

3-point goals-Mansfield University 9-22 (HILL, Kevin 5-11; PENDER, Chris
2-4; WILLIAMS, Terrance 1-1; HAMPTON, John 1-5; GREENE, Chris 0-1),
Bloomsburg University 3-14 (BURDINE, Jaren 2-5; ROSE, Buddy 1-3; JERRY, Drew
0-3; BRYAN, Billy 0-2; JONES, Nick 0-1). Fouled out--Mansfield
University-GREENE, Chris; WEBB, Jovoun; HAMPTON, John, Bloomsburg
University-JEFFERSON, Matt; BURDINE, Jaren. Rebounds-Mansfield University 38
(HILL, Kevin 6; WEBB, Jovoun 6), Bloomsburg University 38 (BRYAN, Billy 9).
Assists-Mansfield University 13 (HAMPTON, John 6), Bloomsburg University 11
(BRYAN, Billy 4). Total fouls-Mansfield University 34, Bloomsburg University
24. A-300