RELEASE DATE: 1/14/07
FOR IMMEDIATE RELEASE: Mounties Win OT Thriller 96-92 -- Greene Has Career Day
MANSFIELD – Chris Greene led three Mounties in double figures with a career best performance of 28 points as the Mountaineers picked up a thrilling 96-92 overtime victory against Slippery Rock Sunday afternoon at Decker Gymnasium.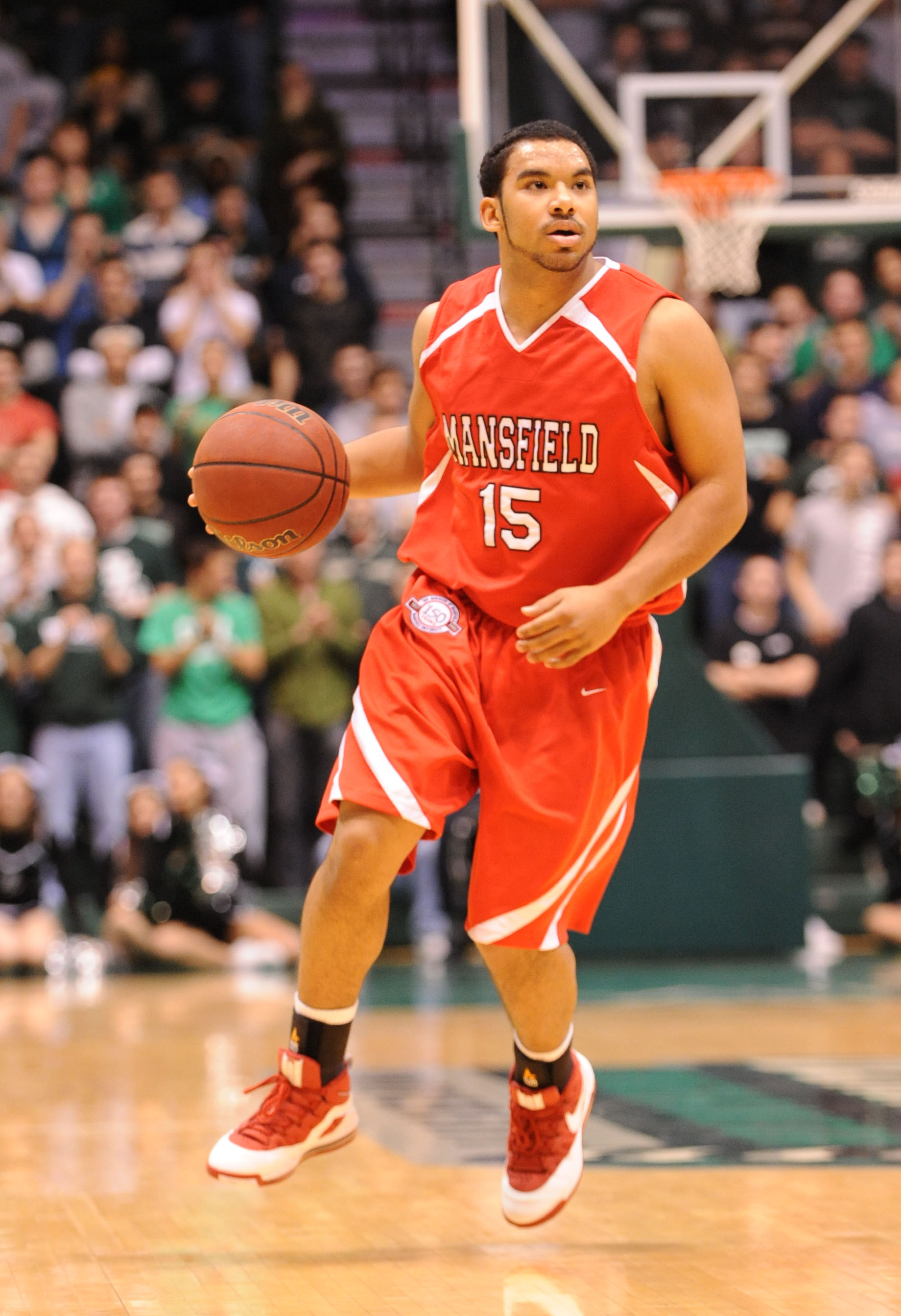 Chris Pender kept the game alive when he tipped in a loose rebound with under five seconds to play in regulation to send the game to overtime and then sealed the game in overtime after stealing an inbounds pass with four seconds remaining and hitting a free throw to put the Mountaineers out of reach at 96-92 in a physical game that saw an unprecedented 59 total fouls with seven players fouling out.
"We've been preaching the importance of playing hard from wire to wire all season and that paid off tonight," said head coach Rich Miller. "Chris [Greene] was incredible tonight. They just didn't have an answer for him defensively and Kevin Hill and Chris Pender both gave us courageous performances -- they were both questionable as to whether they would even play tonight."
Hill, who finished with 20 points including some clutch 3-pointers down the stretch, was in the emergency room this morning at 9:00 am but still started the game and played 37 solid minutes. Pender, suffering from Achilles tendon problems, "couldn't even make it through shoot-around this morning," said Miller, yet his solid 23 minutes were key to the Mountaineers victory.
"There was a lot of heart out there on the floor today," Miller added.
Things started slowly for the Mountaineers as Slippery Rock ran out to a nine point lead at 20-11 with just under 11 minutes to play.
Mansfield chipped away at the lead closing in to within one point at 28-27 when Terrance Williams knocked down a 3-pointer with 4:22 to play in the half and then took the lead 29-28 on the next possession when Dhimitri Luarasi hit a lay-up from Chris Greene.
The lead would exchange hands two more times before the half ended and Brandon Smith sent the Mountaineers to the intermission tied at 35-35 when he knocked down a jumper with 16 seconds to go.
Mansfield converted their first four baskets out of the break but Slippery Rock responded each time tying the game at 50-50 with 15:08 to play before opening up an 11-5 run to take the lead 61-55 with just over 11 minutes to play.
The Mountaineers bounced back on a Brandon Smith 3-point play when he was fouled during a tip-in followed by a Chris Greene 4-point play when he was fouled on a 3-pointer to regain the lead 64-62 with just over nine minutes to play.
Slippery Rock continued to score on their possessions with the Mountaineers responding each time sending the game to the ninth tie of the second half at 69-69 with just over five minutes to play.
Slippery Rock held a three point advantage with 40 seconds to play at 79-76 but Chris Greene went coast to coast and hit a lay-up with 29 seconds to play bringing the score to 79-78. Terrance Williams was called for his fifth and disqualifying foul with 19 seconds to play sending SRU's Erroll Robinson to the free-throw line. Robinson made 1-of-2 giving the ball back to Mansfield with 19 seconds on the clock.
Seth Cornell had an open look at 3-pointer with 11 seconds to play but the ball rimmed out into the arms of Chris Pender. Pender skied above the mess of players below the rim to tip the ball in with seven seconds remaining to tie the game at 80-80 and send it into overtime.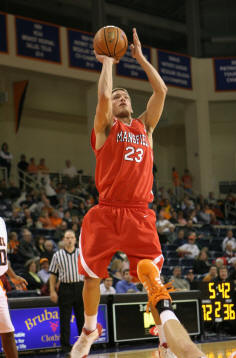 The Rock opened the overtime period with a basket to take the lead 82-80 but Kevin Hill responded with a 3-pointer to put the Mounties back on top. Slippery Rock would again respond taking a one point lead at 85-84 with just over three minutes to play but Chris Pender came through again knocking down a jumper to put the Mountaineers back on top by one.
A 3-pointer from Kevin Hill put the Mounties up by four at 92-88 with 28 seconds to play and free throws from Greene and Pender kept the Mounties in front 95-92 with four seconds remaining.
Slippery Rock called a time-out and set up a play for the final three seconds but Pender was able to steal the inbounds pass and was fouled with three seconds to play. He hit 1-of-2 to put the Mounties out of reach and seal the four point victory 96-92.
Greene led all scorers with a career-high 28 points and also recorded six assists, five steals, three rebounds, and one blocked shot. Hill finished the game with 20 points on 7-of-11 shooting with five 3-pointers while senior Terrance Williams finished the game with 18 points. Pender scored eight points including the shots that tied the game in regulation and sealed the win in overtime.
The Mountaineers committed 27 fouls while Williams, John Hampton, and Brandon Lawley all fouled out of the contest.
The Rock were led by Glenn Reepmyer who finished with 21 points and 16 rebounds and Jamar Scales who added 20 points. Matt Schaefer had 16 while Joseph Vines added 11.
Slippery Rock committed 32 fouls and had four players foul out of the contest.
Mansfield shot 46.4% from the field for the game while shooting 37.5% from the 3-point arc and 59.0% from the free throw line hitting 23-of-39 attempts.
Slippery Rock was 55.0% from the field, 45.5% from the 3-point line, and 56.8% from the charity stripe hitting 21-of-37 attempts.
With the Mountaineers second straight win over PSAC West opponents they move to 4-10 overall on the season and remain 0-1 in conference play. Slippery Rock falls to 4-12 overall and remains 1-0 in PSAC West play.
The Mounties complete a four game home stint this Wednesday, January 17th, when they host Kutztown in the second game of the PSAC East regular season schedule. Tip-off is set for 7:30 pm following the women's tip at 5:30 pm.



Newspaper Box Score
Slippery Rock University vs Mansfield University
1/14/07 3:00 pm at Mansfield, PA
At Mansfield, PA
MANSFIELD UNIVERSITY 96, SLIPPERY ROCK UNIVERSITY 92
SLIPPERY ROCK UNIVERSITY (4-12 (1-0))
REEPMEYER, Glenn 9-14 3-6 21; SCALES, Jamar 9-12 1-2 20; SCHAEFER, Matt 4-8
4-6 16; VINES, Joseph 4-7 3-5 11; ROBINSON, Erroll 2-3 4-8 8; SMITH, Kenny
2-8 3-4 7; COLEMAN, Rashiid 2-4 1-2 5; CAMPUZANO, Brian 1-1 1-2 3; THOMPSON,
Brandon 0-3 0-0 0. Totals 33-60 21-37 92.
MANSFIELD UNIVERSITY (4-10 (0-1))
GREENE, Chris 8-18 10-14 28; HILL, Kevin 7-11 1-2 20; WILLIAMS, Terrance
6-10 4-7 18; PENDER, Chris 3-8 2-4 8; SMITH, Brandon 3-3 1-1 7; LAWLEY,
Brandon 2-6 3-9 7; LUARASI, Dhimitri 2-5 0-0 4; HAMPTON, John 1-6 2-2 4;
CORNELL, Seth 0-2 0-0 0. Totals 32-69 23-39 96.
Slippery Rock University...... 35 45 12 - 92
Mansfield University.......... 35 45 16 - 96
3-point goals-Slippery Rock University 5-11 (SCHAEFER, Matt 4-7; SCALES,
Jamar 1-2; SMITH, Kenny 0-1; THOMPSON, Brandon 0-1), Mansfield University
9-24 (HILL, Kevin 5-8; WILLIAMS, Terrance 2-3; GREENE, Chris 2-8; HAMPTON,
John 0-2; CORNELL, Seth 0-1; PENDER, Chris 0-2). Fouled out--Slippery Rock
University-SCHAEFER, Matt; SCALES, Jamar; ROBINSON, Erroll; VINES, Joseph,
Mansfield University-LAWLEY, Brandon; WILLIAMS, Terrance; HAMPTON, John.
Rebounds-Slippery Rock University 43 (REEPMEYER, Glenn 16), Mansfield
University 34 (PENDER, Chris 9). Assists-Slippery Rock University 20
(ROBINSON, Erroll 5), Mansfield University 10 (GREENE, Chris 6). Total
fouls-Slippery Rock University 32, Mansfield University 27. A-323