RELEASE DATE: 1/17/07
FOR IMMEDIATE RELEASE: Mounties Win Third Straight -- Pick Up 85-74 PSAC East Victory
MANSFIELD -- Brandon Lawley led five Mountaineers in double figures with 21 points as Mansfield picked up itís first PSAC East win of the season dropping Kutztown 85-74 at Decker Gymnasium Wednesday night.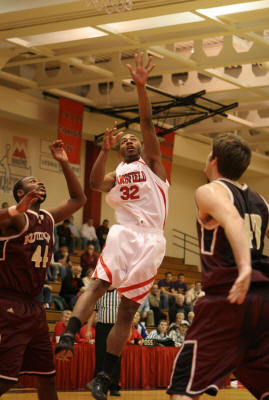 "Well it wasn't a pretty win but in the end it came down to how tough and passionate our guys are playing," said head coach Rich Miller. "We're playing with a banged up roster right now but it doesn't show out on the court."
The Mountaineers settled into the offense after the first two minutes when Kevin Hill knocked down two 3-pointers and a lay-up with John Hampton hitting his own 3-pointer and lay-up to put Mansfield up 14-7 with under 15 minutes to play in the half.
Kutztown would battle back to tie the game at 28-28 with just under five minutes to go and the game would remain within four points for the duration of the half before Chris Greene knocked down a jumper with five seconds to go to send the game into halftime tied at 40-40.
Both teams opened the second half with hot shooting streaks as the score increased to 53-53 with just over 14 minutes to play before Kutztown grabbed the lead 55-53 with 12 minutes to go.
Back to Back 3-pointers from Chris Pender put the Mounties back on top 59-57 just just under 11 minutes to play and Mansfield would not relinquish the lead for the remainder of the contest building up to a 12 point lead down the stretch.
A solid 7-for-8 from the foul line during the last two minutes of the game secured the 85-74 victory for Mansfield marking their third straight win.
Brandon Lawley had 21 points and eight rebounds while both Kevin Hill and Terrance Williams each added 15 points. John Hampton knocked down 12 points while pulling eight rebounds and Chris Greene finished the game with 11 points and seven assists.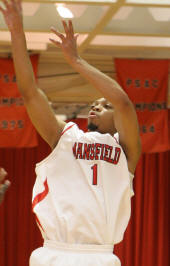 Dave Ben and Stephen Dennis each put up a game-high 25 points for the Golden Bears while Sean McKeon added 12.
Mansfield shot 49.2% from the field, the third highest percentage of the season, while Kutztown shot 40.7% after shooting 52.0% in the first half but struggling with a dismal 31.0% second half shooting percentage.
Rebounds were even at 36 boards each.
Foul troubles continued for the Mountaineers who were charged with 29 personal fouls and one disqualification as Chris Greene fouled out of the contest. Kutztown visited the free throw line 38 times including 23 times in the second half alone.
The win marks a three game winning streak for the Mounties who improve to 5-10 overall and even at 1-1 in the PSAC East. Kutztown falls to 11-5 and 0-2 in the PSAC East.
The Mountaineers are back in action on Saturday afternoon when they travel to Cheyney for a PSAC East tip-off at 3:00 pm.




Newspaper Box Score
Kutztown University vs Mansfield University
1/17/07 7:30 pm at Mansfield, PA
At Mansfield, PA
MANSFIELD UNIVERSITY 85, KUTZTOWN UNIVERSITY 74
KUTZTOWN UNIVERSITY (11-5 (0-2))
BEN, Dave 6-17 11-14 25; DENNIS, Stephen 9-18 5-10 25; McKEON, Sean 4-9 4-4
12; EDWARDS, Nate 1-6 2-4 4; MOORE, Durell 0-1 3-4 3; BOWER, Mark 1-1 0-0 2;
DAVIS, Terrance 1-1 0-0 2; FOYE, Max 0-1 1-2 1. Totals 22-54 26-38 74.
MANSFIELD UNIVERSITY (5-10 (1-1))
LAWLEY, Brandon 8-16 5-6 21; HILL, Kevin 6-10 0-0 15; WILLIAMS, Terrance
5-10 4-4 15; HAMPTON, John 5-8 1-5 12; GREENE, Chris 4-11 2-2 11; PENDER,
Chris 2-4 3-4 9; LUARASI, Dhimitri 1-3 0-0 2; CORNELL, Seth 0-1 0-0 0.
Totals 31-63 15-21 85.
Kutztown University........... 40 34 - 74
Mansfield University.......... 40 45 - 85
3-point goals-Kutztown University 4-13 (BEN, Dave 2-6; DENNIS, Stephen 2-4;
EDWARDS, Nate 0-2; McKEON, Sean 0-1), Mansfield University 8-19 (HILL, Kevin
3-7; PENDER, Chris 2-3; WILLIAMS, Terrance 1-2; HAMPTON, John 1-2; GREENE,
Chris 1-4; CORNELL, Seth 0-1). Fouled out--Kutztown University-EDWARDS,
Nate, Mansfield University-GREENE, Chris. Rebounds-Kutztown University 36
(DENNIS, Stephen 11), Mansfield University 36 (LAWLEY, Brandon 8; HAMPTON,
John 8). Assists-Kutztown University 9 (McKEON, Sean 3), Mansfield
University 19 (GREENE, Chris 7). Total fouls-Kutztown University 22,
Mansfield University 29.