RELEASE DATE: 2/07/07
FOR IMMEDIATE RELEASE: Hill Lifts Mounties Over KU 73-71 in Final Minute of Play
KUTZTOWN – Kevin Hill found the backdoor on a pick and roll from Terrance Williams with 6.5 seconds remaining to boost the Mountaineers over Kutztown 73-71 Wednesday night in PSAC East conference play at Kutztown.
Nate Edwards of the Golden Bears managed to get a shot off at the buzzer but it just missed the mark rimming off the right side of the iron.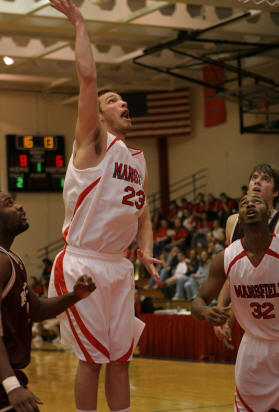 The win brings Mansfield to 4-4 in the PSAC East with three of the final four conference games to be played at Decker Gymnasium and gives the Mounties the advantage in a tiebreak situation with Kutztown.
The win also marks the eighth straight Mountaineer victory over Kutztown.
Things were close throughout the entire contest with neither squad taking a commanding lead. The first half saw eight ties with Kutztown getting the final say taking a 38-35 lead into the intermission.
The Mountaineers scored the first six points of the second half to take a one point lead but could not stay out in front as the lead continued to change hands.
With five ties in the final six minutes, the score was locked at 69-69 with just over a minute to play when Brandon Lawley knocked down a lay-up to put the Mounties up 71-69 with 1:06 on the clock.
Sean McKeon responded with his own lay-up to tie it up at 71-71 with 31 seconds to go. The Mountaineers called a timeout to set up what would be the winning play. Chris Greene brought the ball up the court as the clock wound down to 10 seconds. Kevin Hill rolled off a screen to find an open back door and Greene laid in the assist as Hill knocked down the lay-up with 6.5 seconds to play to seal the victory.
Hill led four Mounties in double figures with 17 points while pulling in eight rebounds. Brandon Lawley recorded his second double-double of the season with 17 points and 12 rebounds while Terrance Williams finished with 15 points. John Hampton chipped in 11 points and Jovoun Webb added nine.
Sean McKeon led all scorers with a game-high 21 points for Kutztown while Stephen Dennis added 16 and Nate Edwards chipped in 12.
The Mountaineers shot 47.8% from the field while Kutztown was 44.6% from the field. Mansfield held the rebounding advantage at 42-36.
With the win, the Mountaineers improve to 8-14 overall and more importantly 4-4 in the PSAC East. The Golden Bears fall to 15-7 overall and 4-4 in the PSAC East.
The Mountaineers are back in action this Saturday, February 10th, when they host Cheyney in a critical PSAC East match-up at Decker Gym. Tip-off is scheduled for 3:00pm.
Saturday is also scheduled to be Tissue Donor Awareness day. Members of the Mansfield University Student Athlete Advisory Committee will be on hand to pass out awareness flyers.


Newspaper Box Score
Mansfield vs Kutztown
02/07/07 8:00 PM at Keystone Hall - Kutztown, PA
At Keystone Hall - Kutztown, PA

MANSFIELD 73, KUTZTOWN 71

MANSFIELD (8-14, 4-4 PSAC E)
LAWLEY, Brandon 8-14 1-4 17; HILL, Kevin 7-10 0-0 17; WILLIAMS, Terrance
7-18 1-2 15; HAMPTON, John 5-9 1-2 11; WEBB, Jovoun 4-10 0-0 9; GREENE,
Chris 1-1 0-0 2; PENDER, Chris 1-5 0-1 2; CORNELL, Seth 0-2 0-0 0. Totals
33-69 3-9 73.

KUTZTOWN (15-7, 4-4 PSAC E)
McKEON, Sean 7-12 7-8 21; DENNIS, Stephen 6-10 4-6 16; EDWARDS, Nate 4-13
2-2 12; FOYE, Max 3-6 1-3 7; DAVIS, Terrance 1-2 2-3 4; MOORE, Durell 1-1
2-2 4; BEN, Dave 1-9 1-4 3; HAFERA, Kevin 1-2 0-0 2; BOWER, Mark 1-1 0-0 2.
Totals 25-56 19-28 71.

Mansfield..................... 35 38 - 73
Kutztown...................... 38 33 - 71

3-point goals-Mansfield 4-13 (HILL, Kevin 3-4; WEBB, Jovoun 1-1; PENDER,
Chris 0-3; CORNELL, Seth 0-1; WILLIAMS, Terrance 0-3; LAWLEY, Brandon 0-1),
Kutztown 2-7 (EDWARDS, Nate 2-5; BEN, Dave 0-2). Fouled out--Mansfield-None,
Kutztown-None. Rebounds-Mansfield 42 (LAWLEY, Brandon 12), Kutztown 36
(McKEON, Sean 8). Assists-Mansfield 19 (HAMPTON, John 5; WILLIAMS, Terrance
5), Kutztown 13 (EDWARDS, Nate 5). Total fouls-Mansfield 23, Kutztown 15.
A-900