RELEASE DATE:10/29/07
FOR IMMEDIATE RELEASE: Trip to Sprint Football Game at Cornell Fun and Educational for all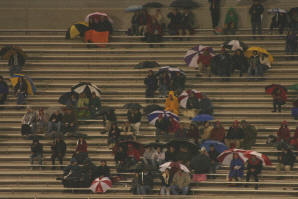 MANSFIELD -- Even Mother Nature couldn't stop Mansfield University future football players, fans, friends, administrators and alums from piling on a bus for a trip to Ithaca Friday night to see the Big Red take on Army in a Sprint Football game.
Despite some much needed rain, 40 of the 47 people who had signed up for the trip boarded the charter bus to Cornell.
A short presentation on a timeline for Sprint football and given on the way up to the game at Schoellkopf Stadium.
The bus arrived just in time for the opening kickoff and the group stayed until Army fumbled the ball at the 1-yard line as the first half ended.
Afterward the group was treated to pizza and wings at Bernie Murray's in Elmira.
"It was interesting and exciting to watch," said MU student Adam Breon. "I can't wait to play next year at Mansfield. I love football and this gives me a chance to play again."
Mansfield has begun the process for the search for a full-time football coach. A representative of the University will attend the CSFL meeting in Philadelphia on Nov. 5 with a 2008 schedule expected to follow shortly.