RELEASE DATE: 4/22/08
FOR IMMEDIATE RELEASE: Beautiful day for new beginning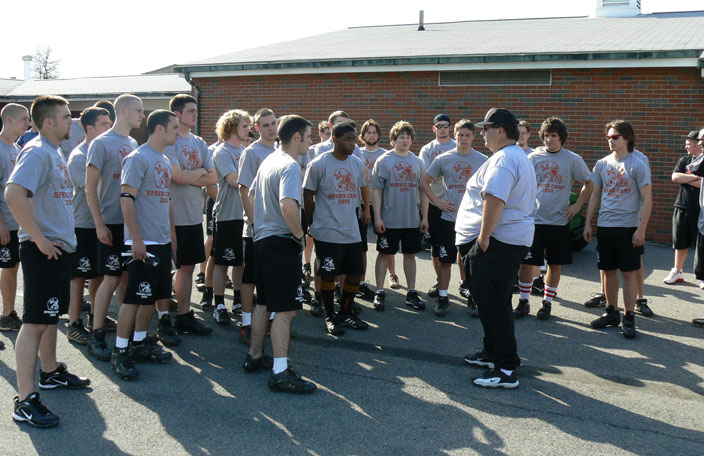 MANSFIELD -- It was a picture perfect day for a new beginning as Mansfield University got back to football with the opening day of spring practice for the sprint football team.
Twenty-eight players of approximately 40 players were issued their sprint practice gear by head coach Dan Davis. The other players have not yet cleared physicals or had other commitments.
"It was a beautiful day to be on the football field," said Davis who was assisted on the first day by former Carmen Bianco and Terry Day. "We did a little running and some agility drills just to get started and we plan on moving into skill identification later."
It seemed like old times with Director of Football Operations Tom Elsasser watching from the sidelines with assistant trainer Brian Oakes.
"It's a good day for football and for Mansfield," Elsasser said. "It's a start and a good start to the return of football. It provides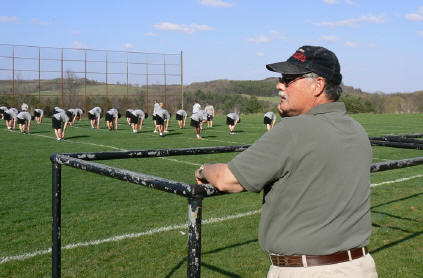 these kids with the opportunity that available only at Mansfield. I'm excited for the future."
News media was on hand also with WETM-TV 18 on hand to film the historic events.
Practice will continue on Wednesday and Thursday and again next Monday and Tuesday.
Mansfield will open the 2008 football season hosting Princeton in a scrimmage on Sept. 20 before hosting Cornell in the first official game on Sept. 27.