RELEASE DATE: 3/04/08
FOR IMMEDIATE RELEASE: Mansfield Names Dan Davis Head Sprint Football Coach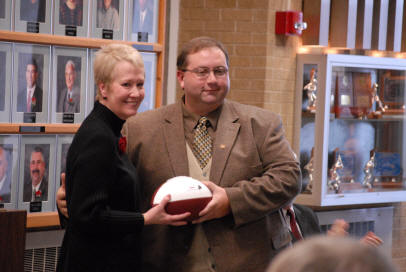 MANSFIELD -- Dan Davis, a 19-year coaching veteran at the collegiate level, was introduced as the head coach of the Mansfield University sprint football program at a press conference at the university Tuesday afternoon.
"When we decided that sprint football fit the mission of Mansfield University it was also decided that the qualities we were looking for in a head coach should also fit that mission," said Mansfield University President Dr. Maravene Loeschke as she introduced Davis.
"With 19 years of collegiate football experience, Dan Davis knows football, "Loeschke added. "But by all accounts, Coach Davis's greatest strength lies in a history of enhancing the quality of the student-athlete experience for his players. We are very pleased to have sprint football and Coach Davis at Mansfield."
Davis leaves his position as the defensive coordinator at NCAA Division III MacMurray College (IL) to take the head coaching position at Mansfield.
This marks Davis' second stint as a collegiate head coach. He served as the head coach at McPherson College (KS) from 2000-2002.
During his career he has served as offensive coordinator (Langston University (OK), Vermilion Community College (MN), defensive coordinator (SUNY-Canton (NY), Huron University (SD), Mount Allison University (NB), MacMurray College) and also as offensive line coach.
Davis graduated with a BA in history from Olivet College (MI) in 1990 and received his MA in education in sports and recreation management from Chadron State College (NE) in 1993.
He was a member of the Olivet College football program from 1986-88 earning a starting spot at offensive tackle.
"I'm honored to become the head coach of this truly unique program," said Davis. "The sprint football program at Mansfield is unlike any other football program at a public institution in the nation. It provides great opportunity to players, who just because of size, never though they would be able to play collegiate football. There are a lot of great kids looking for somewhere like Mansfield and we're going to find them."
Among the large crowd that attend the press conference were two dozen Mansfield students interested in playing sprint football next fall.
"A dream come true for me," said Andrew Licwinko . "I love football and can't wait to starting playing again. It's exciting to be part of something as historical as this."
Mansfield dropped its 115-year old NCAA Division II football program at the conclusion of the 2006 season because of budgetary reasons.
Following one season without football (2007), Mansfield has been accepted into the Collegiate Sprint Football League (CSFL) where it will compete with the five other league members: Cornell University, the University of Pennsylvania, Princeton University, the United States Military Academy at West Point (Army) and the United States Military Naval Academy at Annapolis (Navy).
Mansfield is the only public university in the nation to offer a sprint football program.
Sprint football has been in existence for more than 70-years and is a varsity collegiate sport that plays by the same rules as NCAA programs with the exception of a 172 pound weight limit.
Mansfield will open the 2008 season by hosting Princeton University in a scrimmage on Sept. 20, 2008 before hosting Cornell University on Sept. 27, 2008 and the University of Pennsylvania on Oct. 4, 2008.
GoMounties.com