RELEASE DATE: 8/24/04
FOR IMMEDIATE RELEASE: MOUNTIES ADD FORMER NFL QUARTERBACK SCOTT MILANOVICH TO FOOTBALL STAFF
MANSFIELD –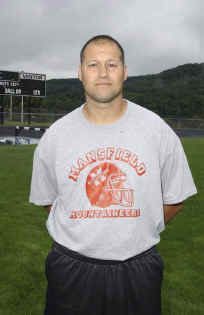 Former NFL quarterback Scott Milanovich has joined the Mansfield University football staff as an assistant coach. The announcement was made today by Mountaineer head football coach Jim Shiffer.
"We really pleased to add someone with Scott's experience as both a player and coach to our program," Shiffer said. "Scott will be a great benefit to our talented but inexperienced quarterback corps as well as to our entire offense."
Milanovich, who played for the Tampa Bay Buccaneers for four seasons after a stellar, record breaking career at the University of Maryland, mostly recently served as the quarterbacks coach for the Rhein Fire of NFL Europe.
Milanovich set 14 school records at quarterback and punter for the University of Maryland from 1991-95. He was named to First Team All-ACC honors in 1993 and was a Playboy All-American in 1995.
Milanovich was a backup quarterback for the Tampa Bay Buccaneers from 1996-98 and again in 2000. He was with the Cleveland Browns in 1999 and played for the Berlin Thunder of NFL Europe in 2000 and the Los Angeles Extreme of the XFL in 2001. He most recently played for the Detroit Fury of the AFL.
In addition to serving as quarterbacks coach for the Rhein Fire, Milanovich also was the quarterbacks coach and play caller for the Calgary Stampeders of the CFL for the second half of the 2003 season.
Mansfield will open the 2004 campaign this Saturday when they travel to California University of Pennsylvania for a 1 p.m. kickoff.