RELEASE DATE: 10/21/08
FOR IMMEDIATE RELEASE: Mansfield travels to Princeton Friday night in search of first sprint football victory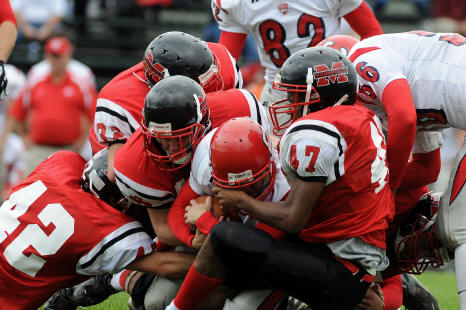 MANSFIELD – After a two week break, the Mansfield University sprint football team will hit the road this Friday when they travel to Princeton University to take on the Tigers in a 7 p.m. start at Powers Field at Princeton Stadium.
It marks the first road trip for the Mountaineers in their inaugural season in the Collegiate Sprint Football League. Mansfield, which hosted Princeton in a scrimmage back on Sept. 20, dropped a 35-0 decision to Cornell earlier this season before showing marked improvement in a 34-12 loss to the University of Pennsylvania on Oct. 4.
Mansfield will play just four games this season including next week's season finale at Cornell. The Mountaineers expect to play a full CSFL schedule, including games against Army and Navy, in 2009.
Princeton is 0-4 on the season including last week's 52-0 loss to undefeated Navy. The Tigers dropped a 43-0 decision to Penn in the season opener and suffered a 58-0 loss to Army before a 40-14 setback to Cornell.
Mansfield, with only three players on the 51-man roster with previous collegiate experience, showed marked improvement over its season opening performance with Cornell when the Mountaineers battled a tough Penn squad in Homecoming on Oct. 4.
After falling behind 21-0, the Mountaineers came storming back, keyed by a 44-yard punt return by freshman Jimmy Wronski (Mahanoy City/Mahanoy Area) for a touchdown. It was the first touchdown scored on Penn in the Quakers first three games.
Mansfield closed the gap to 21-12 when junior Ryan Bernaiche (Hollis,ME/Bonny Eagle) caught a 17-yard touchdown pass from junior quarterback Danny Moss (Anchorage,AK/Diamond) on the last play of the third quarter.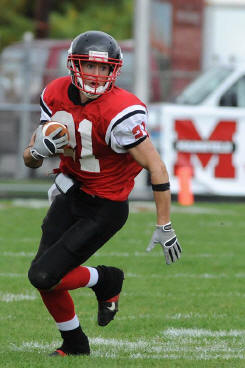 Mansfield, which had been limited to 14 yards of total offense in the opener against Cornell, had 189 yards in total offense against Penn while limiting the Quakers to 384 yards. The Mountaineer defense, led by freshman Will Williams (Pittsburgh/Peabody) with a game high 14-tackles recorded four sacks during the same and got interceptions from freshmen Ray Shaffer (Pottstown/Pottstown) and Cedric Ingram (Philadelphia/Overbrook).
Moss ran for 32 yards on nine carries and completed 14-of-30 passes for 127-yards and a touchdown. Freshmen Tyler Floyd (Halifax/Halifax) and Lucas Bailey (Canton/Canton) each had five catches in the game while Bernaiche added three.
Soloman Isom (Philadelphia/Northeast) was right behind Williams in tackles with 12 while freshman Cody Croasdale (Nicholson/Lackawanna Trail) had 10 tackles including two for a loss.
For the season, Moss has completed 2-of-43 attempts for 174 yards and a touchdown while rushing for an additional 13 yards. Floyd is the leading rusher averaging 3.4 yards per carry. Floyd also tops the team in receptions with nine for 79-yards while Lucas Bailey has eight catches for 55 yards and Bernaiche five fir 56 yards. Isom leads the defense with 24 tackles over the first two games.
Princeton is led by senior quarterback Andrew Dixon who has competed 34-of-87 pass for 253 yards and a touchdown. He has been intercepted five times on the year.
Dixon's leading receiver is sophomore tight end J.B. Dixon with eight catches for 78 yards. Junior Anthony Soroka has five grabs for 57 yards. Michael Schoder tops the ground game with 48-yards on 18-carries. Schoder also leads the defense with 43 tackles including two sacks.