RELEASE DATE: 9/05/09
FOR IMMEDIATE RELEASE: #9Mansfield falls to #2 UMASS-Lowell 8-5 in offensive shootout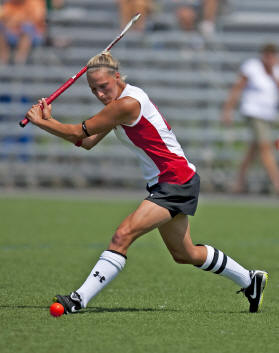 SCRANTON – Freshmen Kristyn Grunza and Kristy Tutorow each scored twice and #9 Mansfield scored five goals on #2 UMASS-Lowell but it wouldn't be enough in a 8-5 loss in a battle between national ranked field hockey programs at the University of Scranton Saturday afternoon.
UMASS-Lowell took a 2-0 lead after 12 minutes of play on goals by Annie Hansbury off a penalty stroke and Jaci Moulton. Mansfield cut the score to 2-1 in the 23rd minute when sophomore Danielle Hackenberg scored her first collegiate goal off an assist from Tutorow.
UMASS-Lowell increased the lead to 3-1 in the 32nd minute on a goal by Sammy Macy before Tutorow scored her fifth goal of the season on an assist from Kristyn Grunza to pull to 3-2 seconds before the end of the first half.
Lowell increased the lead to 5-2 goals by Moulton and Abby Auld in the first seven minutes of the second half but Mansfield closed to 5-3 on a goal by Grunza from Brittany Kostishion in the 42nd minute.
Lowell scored two goals over a 36 second span in the 54th minute to take a 7-3 advantage but Mansfield pulled to 7-4 on Tutorow's second goal of the game in the 54th minute.
Liz Day scored UMASS-Lowell final goal in the 62nd minute and Grunza got Mansfield last score in the 68th minute.
The two teams combined for a remarkable 55 shots including 34 by UMASS-Lowell.
Many Carbon recorded eight of UMASS-Lowell's 10 saves while freshman Jamie Twist had nine of Mansfield's 13 saves.
Lowell improves to 4-0 on the season while Mansfield falls to 2-1.
Soccer Game Summary (Final)
#2 UMass Lowell vs #9 Mansfield University (9-5-09 at Scranton, Pa.)
UMass Lowell (4-0, 0-0) vs. Mansfield University (2-1, 0-0)
Date: 9-5-09 Attendance: 127
Weather:
Goals by period 1 2 Tot
-------------------------------
UMass Lowell........ 3 5 - 8
Mansfield University 2 3 - 5
SCORING SUMMARY:
1. 8:16 UML Annie Hansbury (1) Penalty kick
2. 12:09 UML Jaci Moulton (3) (Abby Auld) - odd man rush for UML, centered by auld t
3. 23:09 MANS Danielle Hackenberg (Kristy Tutorow)
4. 32:13 UML Sammy Macy (6) (Jaci Moulton) - smith in d zone to moulton, upfield cent
5. 34:20 MANS Kristy Tutorow (5) (Kristyn Grunza) - shot from top of circle by 11, tipped in
6. 38:37 UML Jaci Moulton (4) (unassisted) - grabbed her own rebound, lifted over goa
7. 41:41 UML Abby Auld (1) (unassisted) - moulton shot brought goalie to right of
8. 42:56 MANS Kristyn Grunza (3) (Brittany Kostishion)
9. 50:54 UML Lizzy Ales (1) (Kayla Littig) - littig had shot off the penalty corner,
10. 51:30 UML Katie Enaire (2) (unassisted) - macy shot tipped away, enaire scores
11. 54:34 MANS Kristy Tutorow (6) (unassisted)
12. 62:33 UML Liz Day (1) (Molly Clay) - clay brought it in from corner to day at
13. 68:10 MANS Kristyn Grunza (4) (unassisted)
Shots: UMass Lowell 34, Mansfield University 21
Saves: UMass Lowell 10 (Amy Carbon 8; Kate Hickey 2), Mansfield
University 13 (Liz Phillippy 4; Jamie Twist 9)