RELEASE DATE: 9/22/09
FOR IMMEDIATE RELEASE: Slippery Rock holds on to beat Mansfield 4-3 in field hockey – Mounties first loss to SRU since 1994 snapping 19-game win streak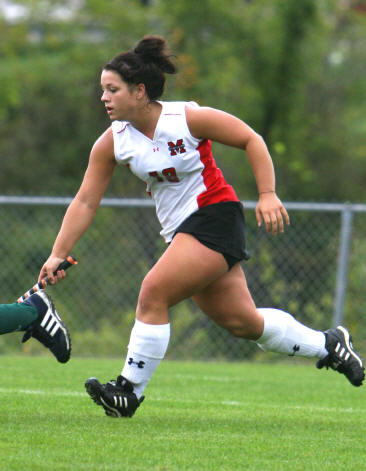 SLIPPERY ROCK – Brittany Kostishion's potential game-tying shot off a corner as time expired went high as Slippery Rock held on for a 4-3 win over Mansfield in a PSAC West field hockey contest Tuesday afternoon.
It marked the first time Mansfield has lost to Slippery Rock since 1994 and snapped a 19-game winning streak dating back to 1996.
Jaimie Purdy gave Mansfield an early 1-0 lead scoring her third goal of the season off an assist from Jessie Wolski eight minutes into the game. Slippery Rock took a 2-1 halftime lead on a pair of goals by Rebecca Coleman before Mansfield's Kristy Tutorow tied the game with her seventh goal of the season, at 2-2 seven minutes into the second half on an assists from Kostishion.
Slippery Rock answered back five minutes later on Coleman's third goal of the game and Mansfield tied the score at 3-3 in the 52nd minute when senior Courtney Grunza scored off a penalty corner.
Gabrielle Malishchak scored what proved to be the game-winner five minutes later. Mansfield tried to stage a torrid comeback, getting off four shots in the game's final five minutes, but could not get the ball into the net. Jamie Twist recorded four saves for the Mountaineers.
Mansfield dropped its fourth straight one-goal game in falling to 2-7 overall and 0-3 in the PSAC West.
Mansfield travels to No. 1 ranked Shippensburg on Saturday.
Field Hockey Game Summary (Final)
Mansfield University vs Slippery Rock (Sep 22, 2009 at Slippery Rock, Pa.)
Mansfield University (2-7 (0-3 PSAC-West)) vs. Slippery Rock (2-6 (1-2 PSAC-West))
Date: Sep 22, 2009 Attendance: 50
Goals by period 1 2 Tot
-------------------------------
Mansfield University 1 2 - 3
Slippery Rock....... 2 2 - 4
SCORING SUMMARY:
1. 7:48 MANS Jaimie Purdy (Jessie Wolski)
2. 22:13 ROCK Rebecca Coleman (1) (Samantha Badaczewski)
3. 22:55 ROCK Rebecca Coleman (2) (unassisted)
4. 42:01 MANS Kristy Tutorow (Brittany Kostishion)
5. 46:57 ROCK Rebecca Coleman (3) (Gabrielle Malishchak)
6. 52:13 MANS Courtney Grunza Penalty corner
7. 57:41 ROCK Gabrielle Malishchak (2) (Katie Krouse)
Shots: Mansfield University 19, Slippery Rock 17
Saves: Mansfield University 4 (Jamie Twist 4), Slippery Rock 6 (Lisa
Belcastro 6)