RELEASE DATE: 8/30/09
FOR IMMEDIATE RELEASE: #9 Mansfield scores four second half goals to beat Southern Connecticut 5-1 in NCAA Division II field hockey matchup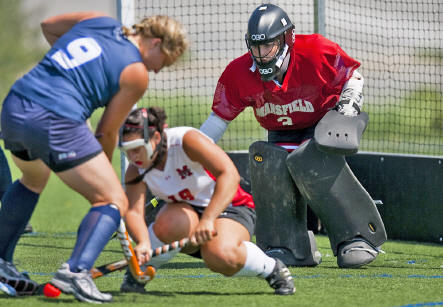 SHIPPENSBURG – Freshman Kristy Tutorow scored two goals and fellow freshmen Kristyn Grunza and Alycia Pici each added another to lead Mansfield to a 5-1 win over Southern Connecticut Sunday afternoon in the second day of the Shippensburg Field Hockey Tournament at Robb Sports Complex.
The two teams battled to a scoreless draw for the first 29 minutes of the game before Laura Dembofasky scored an unassisted goal to give Southern Connecticut a 1-0 lead.
Mansfield tied the score just over two minutes later when Tutorow scored her first of two goals on the day off an assist from Jessie Wolski to deadlock the score a 1-1 at halftime.
Freshman Kristyn Grunza gave Mansfield a 2-1 lead six minutes into the second half scoring a goal off an assist from her older sister Courtney. Mansfield increased its lead to 3-1 15 minutes later on a goal by sophomore Jaimie Purdy off a Wolski assist.
The Mountaineers scored twice more in the final 10 minutes of the game with freshman Alycia Pici scoring her first collegiate goal on an assist from Tutorow.
Tutorow scored the game's last goal with three minute remaining with an assist from Brittany Kostishion.
Mansfield held a 20-13 advantage in shots – including 15-5 in the second half -- and 11-3 advantage in corner's. Three Mountaineer goalie's Hayley Tuckey, Liz Philippy and Jamie Twist combined for three saves. Southern Connecticut (0-2) goalie Lauren Zarrella was credited with nine stops.
Mansfield, the No. 9 ranked team in nation in the NCAA Division II preseason poll, improves to 2-0 on the season and will travel to the University of Scranton this coming weekend to play the UMASS-Lowell.
Soccer Game Summary (Final)
Southern Connecticut vs #9 Mansfield University (Aug 30, 2009 at Shippensburg, PA)
Southern Connecticut (0-2) vs. Mansfield University (2-0)
Date: Aug 30, 2009 Attendance: 43
Weather:
Goals by period 1 2 Tot
-------------------------------
Southern Connecticut 1 0 - 1
Mansfield University 1 4 - 5
SCORING SUMMARY:
1. 29:11 SCSU Laura Dembofsky (1) (unassisted)
2. 31:38 MANS Kristy Tutorow (2) (Jessie Wolski)
3. 41:13 MANS Kristyn Grunza (2) (Courtney Grunza)
4. 56:11 MANS Jaimie Purdy (1) (Jessie Wolski)
5. 65:31 MANS Alycia Pici (1) (Kristy Tutorow)
6. 67:00 MANS Kristy Tutorow (3) (Brittany Kostishion)
Shots: Southern Connecticut 13, Mansfield University 20
Saves: Southern Connecticut 9 (Lauren Zarrella 9), Mansfield
University 3 (Liz Phillippy 1; Jamie Twist 1; Hayley Tuckey 1)