RELEASE DATE: 9/26/09
FOR IMMEDIATE RELEASE: Mountaineer Field Hockey Loss to #1 Shippensburg 7-1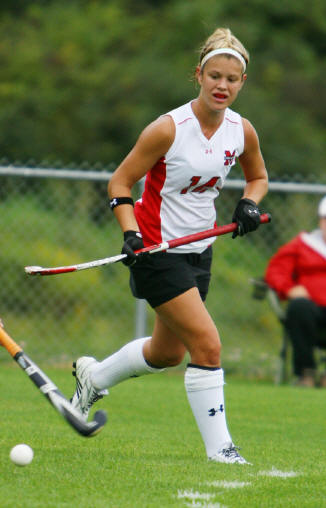 SHIPPENSBURG: The Mountaineer field hockey team suffered a 7-1 loss at No. 1 ranked Shippensburg Saturday afternoon.
Shippensburg University opened up the scoring three minutes into the first half off an unassisted shot by Laura Wylde. Nine minutes later Mariah Wooters found the back of the net off an assist by Kristina Taylor.
Taylor scored a goal of her own off an assist by Emily Fulton in the 21st minute of play. Sam Langone ended Shippensburg's scoring in the first half with a goal off an assist by Ashley Taylor two minutes later.
Sami Swingle put Mansfield on the board with less than four minutes of play left off an unassisted goal to bring the halftime score to 4-1.
Shippensburg scored three more times in the game off of goals by Amanda Strous, Jamie Doughty (assist by Jordyn Beam) and another goal for Kristina Taylor.
Shippensburg outshot Mansfield 33-12.
Mansfield's Jamie Twist had seven saves, Liz Phillippy had five and Hayley Tuckey had three while Shippensburg's Amanda Houser had five.
This brings Mansfield's record now to 2-8 overall.
The Mountaineers return to action Wednesday, September 30th when they host the Golden Bears from Kutztown University at 4pm.
Field Hockey Game Summary (Final)
Mansfield University vs #1 Shippensburg (Sep 26, 2009 at Shippensburg, PA)
Mansfield University (2-8, 0-4 PSAC West) vs. Shippensburg (11-0, 4-0 PSAC West)
Date: Sep 26, 2009 Attendance: 80
Weather: Showers, cloudy, 62 degrees
Goals by period 1 2 Tot
-------------------------------
Mansfield University 1 0 - 1
Shippensburg........ 4 3 - 7
SCORING SUMMARY:
1. 3:50 SHIP Laura Wylde (7) (unassisted)
2. 12:41 SHIP Mariah Wooters (3) (Kristina Taylor)
3. 21:45 SHIP Kristina Taylor (10) (Emily Fulton)
4. 23:59 SHIP Sam Langone (6) (Ashley Taylor)
5. 31:15 MANS Sami Swingle (unassisted)
6. 37:16 SHIP Amanda Strous (5) (unassisted)
7. 52:14 SHIP Jamie Doughty (7) (Jordyn Beam)
8. 63:28 SHIP Kristina Taylor (11) (unassisted)
Shots: Mansfield University 12, Shippensburg 33
Saves: Mansfield University 15 (Liz Phillippy 5; Jamie Twist 7; Hayley
Tuckey 3), Shippensburg 5 (Amanda Houser 5)