RELEASE DATE: 10/9/09
FOR IMMEDIATE RELEASE: Field Hockey Goes Big Against Seton Hill in 8-3 Win; Kostishion Records a Hat-Trick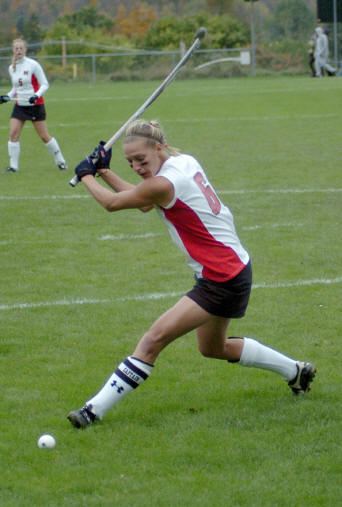 MANSFIELD: Led by Brittany Kostishionís hat-trick, the Mountaineer field hockey team defeated Seton Hill 8-3 in a non-conference game Friday evening.
Just two and a half minutes into the game, Kostishion scored off a corner from Jaimie Purdy. Two minutes later Seton Hill followed with a goal from Allegra Ramos off an assist by Michelle Hogan. This became the only time in the game when the score was even at 1-1.
In the tenth minute of play, Danielle Hackenberg scored her seventh goal of the season off of another assist by Purdy. Hackenbergís shot beat out Seton Hillís goalkeeper, Nadine Wallace as the ball slipped by her into the right side of the goal.
In the 23rd minute, Jessie Wolski earned her fifth goal of the season off of a penalty swipe. One minute later, Purdy scored her ninth goal of the season off an assist from Kristyn Grunza giving the Mountaineers a 4-1 lead going into the half.
Grunza scored her ninth goal of the season just three minutes into the second half off of Wolskiís assist. Seton Hill staged an unsuccessful comeback with a goal in the 45th minute of play with a goal from Krista Archambeau and assist from Janelle Hofer just to be answered by Kostishionís second goal of the game two minutes later.
After a pass from Purdy, Alycia Pici scored her sixth goal of the season when her shot made Seton Hillís replacement goalie, Brittany Parker fall into the back of the net as the ball crossed the line.
Seton Hillís last hope came from a goal in the 62nd minute with a goal from Lynette Mhangami with an assist from Ramos.
With two minutes left in the game, Kostishion raced down the field as she beat out all of the defenders and scored her long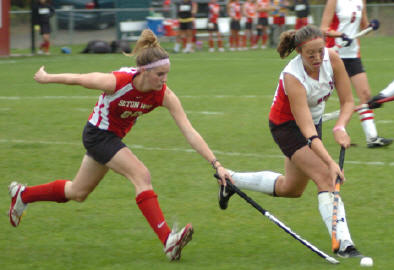 overdue hat-trick. In prior years, Kostishion has accumulated three goals since 2006-08. Before this game of this season, she has only had one. With this game, Kostishion has almost doubled her career goals which now stand at seven.
Mansfield dominated with their 40 shots while Seton Hill had only 14. Mansfield also had 20 penalty corners compared to Setonís seven.
Setonís Wallace recorded 12 saves while Parker recorded ten. Mansfieldís Liz Phillippy recorded seven saves bringing her season total to 28. Talena Truitt also had a defensive save.
The Mountaineers host Bloomsburg University tomorrow, Friday October 10 at noon.
Field Hockey Game Summary (Final)
SetonHill University vs Mansfield University (Oct 09, 2009 at Mansfield University)
SetonHill University (6-7-0) vs. Mansfield University (6-9-0)
Date: Oct 09, 2009 Attendance: 58
Weather: Cloudy
Goals by period 1 2 Tot
-------------------------------
SetonHill University 1 2 - 3
Mansfield University 4 4 - 8
SCORING SUMMARY:
1. 2:30 MANS Brittany Kostishion (2) (Jaimie Purdy) - Scored on Corner play
2. 4:42 SHU Allegra Ramos (8) (Michelle Hogan) - Penalty corner
3. 10:31 MANS Danielle Hackenberg (7) (Jaimie Purdy) - right side of net
4. 23:40 MANS Jessie Wolski (5) (unassisted) - Penalty Swipe
5. 24:45 MANS Jaimie Purdy (9) (Kristyn Grunza) - Pass to left side of net
6. 38:10 MANS Kristyn Grunza (9) (Jessie Wolski) - Top of net
7. 45:23 SHU Krista Archambeau (11) (Janelle Hofer)
8. 47:40 MANS Brittany Kostishion (3) (unassisted) - Scored off rebound
9. 48:38 MANS Alycia Pici (6) (Jaimie Purdy) - Goalie fell into the net
10. 62:17 SHU Lynette Mhangami (1) (Allegra Ramos)
11. 68:51 MANS Brittany Kostishion (4) (unassisted) - Beat defender between goalies legs
Shots: SetonHill University 14, Mansfield University 40
Saves: SetonHill University 22 (Nadine Wallace 12; Brittany Parker
10), Mansfield University 7 (Liz Phillippy 7)