RELEASE DATE: 9/13/09
FOR IMMEDIATE RELEASE: Millersville holds on for 2-1 win over No. 9 Mansfield in field hockey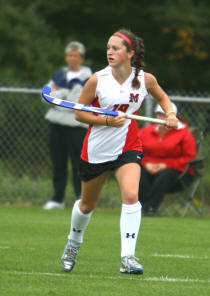 MILLERSVILLE – Freshman Alycia Pici scored her second goal of the season and Mansfield had three corners as time expired but couldn't overcome Millersville in a 2-1 loss Sunday afternoon in a PSAC interdivisional game.
Millersville scored 11 minutes into the game on a goal by Melissa McCarthy before Pici tied the game at 1-1 in the 28th minute.
Millersville retook the lead on a Kristie Testa goal in the 53rd minute. Mansfield had five penalty corners over the final six minutes of the game, including two after time expired, but couldn't get off the tying shot.
Millersville held a 23-10 shot advantage and took 17 penalty corners to Mansfield's 12 to improve to 4-2 overall. Freshman Jamie Twist recorded 10 saves for Mansfield which fell to 2-4 overall.
Mansfield host East Stroudsburg on Wednesday.
Soccer Game Summary (Final)
#9 Mansfield University vs Millersville (Sep 13, 2009 at Millersville, Pa.)
Mansfield University (2-4) vs. Millersville (4-2)
Date: Sep 13, 2009 Attendance: 137
Weather: Clear and warm with a slight breeze
Goals by period 1 2 Tot
-------------------------------
Mansfield University 1 0 - 1
Millersville........ 1 1 - 2
SCORING SUMMARY:
1. 10:54 MILL Melissa McCarthy (Krista Bupp)
2. 28:18 MANS Alycia Pici (unassisted)
3. 53:19 MILL Kristie Testa (Emily Woodland)
Shots: Mansfield University 10, Millersville 23
Saves: Mansfield University 10 (Jamie Twist 10), Millersville 4 (Sara
Dickinson 4)