RELEASE DATE: 10/04/09
FOR IMMEDIATE RELEASE: Mansfield field hockey wins third straight with 4-2 win over No. 9 Millersville – Freshman Kristy Tutorow scores two goals and fellow freshman Jamie Twist records 15 saves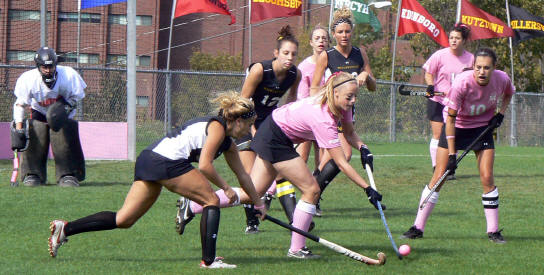 MANSFIELD – Freshman Kristy Tutorow scored two goals and fellow freshman Jamie Twist had 15 saves in goal to lead Mansfield to a 4-2 win over No. 9 Millersville Sunday afternoon at Spaulding Field.
It was the third straight win for the Mountaineers, including two over teams ranked in the Top Ten in NCAA Division II.
It was also 'Play 4 the Cure' with the Mountaineers donning pink shirts and socks to raise funds and awareness of breast cancer.
Freshman Krystyn Grunza scored the game's first goal 13 minutes into the contest, firing a shot from just inside the circle off an assist from senior Brittany Kostishion. Mansfield increased the lead to 2-0 five minutes before the end of the first half when Tutorow tipped-in her eighth goal of the season off an assist from Jaimie Purdy.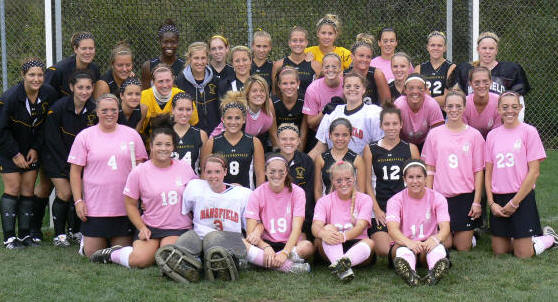 Mansfield extended the lead to 3-0 four minutes into the second half off a Purdy ball that was lofted into the upper left-hand corner of the net off a pass from Kristyn Grunza.
Millersville (6-6) mounted a torrid came-back attempt, scoring their first goal two minutes later on a shot from Emily Manwiller and closed the gap to 3-2 when Nicole Rayson scored in the 51st minute.
But a plucky Mansfield squad, with the 11 starters playing all 70 minutes of the game, sealed the win when Tutorow tipped in a hard pass from Kostishion with less than five minutes to play.
The Mountaineer defense, as always led by senior Courtney Grunza, played as tough as the offense in picking up the win. Twist stopped 15 shots and Millersville held a 23-9 shot advantage on Mansfield.
Mansfield improves to 5-8 overall and host IUP this Wednesday.
Field Hockey Game Summary (Final)
Millersville vs Mansfield University (Oct 04, 2009 at Mansfield University)
Millersville (6-6-0) vs. Mansfield University (5-8-0)
Date: Oct 04, 2009 Attendance: 148
Weather: Cloudy
Goals by period 1 2 Tot
-------------------------------
Millersville........ 0 2 - 2
Mansfield University 2 2 - 4
SCORING SUMMARY:
1. 13:34 MANS Kristyn Grunza (8) (Brittany Kostishion) - edge of circle right hand side
2. 29:57 MANS Kristy Tutorow (8) (Jaimie Purdy) - in front of goal
3. 38:51 MANS Jaimie Purdy (8) (Kristyn Grunza) - upper left corner of net
4. 40:55 MILL Emily Manwiller (7) (Jessica Cave)
5. 51:01 MILL Nicole Rayson (3) (unassisted) - off rebound of previous shot
6. 60:20 MANS Kristy Tutorow (9) (Brittany Kostishion) - tipped in on right side of goal
Shots: Millersville 23, Mansfield University 9
Saves: Millersville 2 (Sara Dickinson 2), Mansfield University 15
(Jamie Twist 15)