RELEASE DATE: 10/13/09
FOR IMMEDIATE RELEASE: Mansfield field hockey falls to No. 8 Mercyhurst 4-0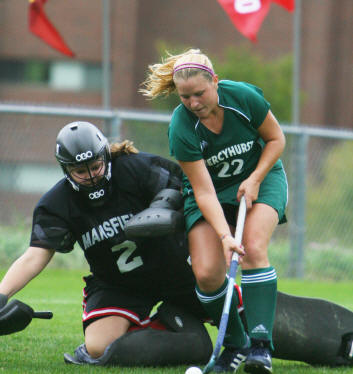 ERIE – The Mansfield University field hockey team suffered a 4-0 setback in a PSAC West game at Mercyhurst Tuesday afternoon.
Mercyhurst got all its goals in the first half from four different players with Jamie Twist in goal for Mansfield. Mansfield's Liz Phillippy didn't allow a goal in the second half while recording eight saves.
Mansfield falls to 6-11 overall and 0-6 in the PSAC West while Merchyhurst improves to 7-5 and 4-3 in PSAC West play.
Mansfield will host Slippery Rock on Saturday.
Field Hockey Game Summary (Final)
Mansfield University vs #8 Mercyhurst College (Oct 13, 2009 at Erie, Pa.)
Mansfield University (6-11, 0-6 PSAC) vs. Mercyhurst College (7-5, 4-3 PSAC)
Date: Oct 13, 2009 Attendance: 303
Weather: Cool and Breezy
Goals by period 1 2 Tot
-------------------------------
Mansfield University 0 0 - 0
Mercyhurst College.. 4 0 - 4
SCORING SUMMARY:
1. 13:11 MC Serena Slattery (Rachel Sluberski) - Penalty corner
2. 24:05 MC Sara Wowkowych (unassisted)
3. 26:55 MC Megan Rasmussen (Sara Wowkowych)
4. 29:55 MC Brittany Coppola (Megan Rasmussen)
Shots: Mansfield University 9, Mercyhurst College 29
Saves: Mansfield University 8 (Liz Phillippy 8), Mercyhurst College 3
(Ashley Wiskup 3)