RELEASE DATE: 9/12/09
FOR IMMEDIATE RELEASE: No. 9 Mansfield drops 3-0 decision to No. 5 Mercyhurst in PSAC field hockey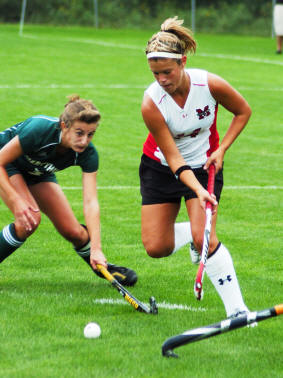 MANSFIELD – Mansfield took 21 shots, including 14 in the second half, but couldn't get the ball past Mercyhurst goalie Ashley Wiskup in a 3-0 loss Saturday afternoon.
Mercyhurst entered the game ranked No. 5 in the country while Mansfield was ranked No. 9.
Kristen Fogle scored Mercyhurst's first goal on a penalty stroke 20 minutes into the game and added a second goal six minutes later from Rachel Sluberski to take a 2-0 halftime advantage.
Emily Warren scored the game's final goal in the 58th minute.
Mansfield was outshot 16-7 in the first half but held a 14-5 shot advantage in the second half. Liz Phillippy record seven saves in goal for Mansfield while Wiskup was also credited with seven for Mercyhurst.
Mansfield falls to 2-3 overall and 0-2 in the PSAC West while Mercyhurst improves to 4-1.
Mansfield travels to Millersville tomorrow.
Soccer Game Summary (Final)
Mercyhurst College vs Mansfield University (Sep 12, 2009 at Mansfield University)
Mercyhurst College (4-1) vs. Mansfield University (2-3)
Date: Sep 12, 2009 Attendance: 79
Weather: Cloudy
Goals by period 1 2 Tot
-------------------------------
Mercyhurst College.. 2 1 - 3
Mansfield University 0 0 - 0
SCORING SUMMARY:
1. 20:08 MC Kristen Fogle (unassisted) - Penalty Swipe
2. 26:49 MC Rachel Sluberski (2) (Serena Slattery)
3. 58:34 MC Emily Warren (5) (unassisted) - Upper right 90 off rebound
Shots: Mercyhurst College 21, Mansfield University 21
Saves: Mercyhurst College 7 (Ashley Wiskup 7), Mansfield University 7
(Liz Phillippy 7)