RELEASE DATE: 9/19/09
FOR IMMEDIATE RELEASE: Mansfield rally comes up short in 4-3 OT loss to No. 4 Kutztown – Hackenbreg scores two goals for Mounties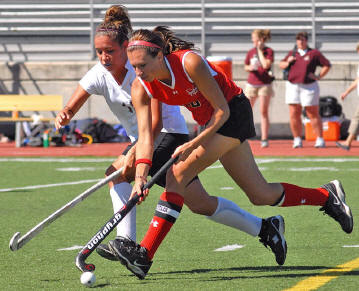 MANSFIELD – Freshman Kristyn Grunza tied the game with a goal with five minutes left to play but No. 4 Kutztown got the game winner on a Carrie Healey 12 minutes into overtime to pull out a 4-3 win Saturday afternoon at Kutztown.
Danielle Hackenberg gave Mansfield a 1-0 lead 12 minutes into the game off an assist by Courtney Grunza before scored three straight goals for a 3-1 lead at halftime.
Mansfield closed the gap to 3-2 on another goal by Hackenberg, this one off an assist by Jessie Wolski, in the 50th minute before Grunza's goal tied the game.
Kutztown held a 42-17 shot advantage with Mansfield's freshman goalie Jamie Twist recording 24 saves.
It marked the third time in the last four games Mansfield (2-6) has lost by a single goal.
Field Hockey Game Summary (Final)
FH2009
Mansfield University vs Kutztown (Sep 19, 2009 at Kutztown, PA)
Mansfield University (2-6) vs. Kutztown (6-2)
Date: Sep 19, 2009 Attendance: 205
Weather:
Goals by period 1 2 OT Tot
----------------------------------
Mansfield University 1 2 0 - 3
Kutztown............ 3 0 1 - 4
SCORING SUMMARY:
1. 12:36 MANS Danielle Hackenberg (Courtney Grunza) - Left corner of cage
2. 23:41 KUTZ Jenna Gregory (Courtney Zook) - right corner of cage
3. 26:07 KUTZ Jenna Gregory (unassisted) - dribbled in, goal in right corner
4. 34:09 KUTZ Lauren Solley (unassisted) - Off of rebound
5. 50:02 MANS Danielle Hackenberg (Jessie Wolski) - left corner of cage
6. 64:52 MANS Kristyn Grunza (unassisted) - Left corner
7. 82:40 KUTZ Carrie Healey (unassisted) - Cross front of cage, into left corner
Shots: Mansfield University 17, Kutztown 42
Saves: Mansfield University 24 (Jamie Twist 24), Kutztown 10 (Emily
Falko 10)