RELEASE DATE: 9/30/09
FOR IMMEDIATE RELEASE: Jaimie Purdy's hat-trick leads Mansfield to 7-2 win over No. 5 Kutztown – Danielle Hackenberg adds two goals as Mounties snap seven game slid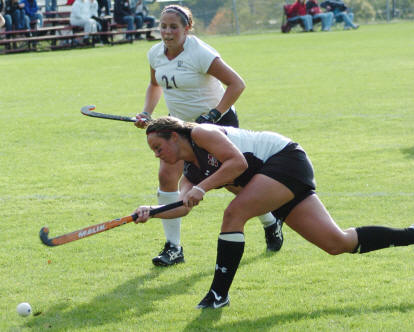 MANSFIELD – Sophomore Jaimie Purdy had a hat-trick and Danielle Hackenberg added two goals to lead Mansfield to a 7-2 win over No. 5 ranked Kutztown Wednesday afternoon at Spaulding Field.
Kutztown took an early 1-0 lead on a goal from Lauren Solley seven minutes into the game before Mansfield came roaring back.
The Mountaineers would score four straight goals over a seven-minute span late in the first half starting with freshman Kristyn Grunza's sixth goal of the season off an assist from Brittany Kostishion at the 24:50 mark. Purdy scored the next three goals with the first coming just over a minute later on a shot taken from just inside the circle.
Purdy scored again three minutes later on a second chance shot off a block and earned her first career hat-trick with her third goal with four minutes remaining before the end of the half. The goal was set up by Sami Swingle with an assist of a penalty corner giving Mansfield a 4-1 halftime advantage.
Mansfield increased its lead to 5-1 ten minutes into the second half when Hackenberg dived and tipped a rebounded ball past the goalie off a scrum in front of the goal for a 5-1 Mansfield lead and added another goal, this one coming off an assist from Jessie Wolski, four minutes later.
Kutztown cut the led to 6-2 in the 49th minute on a goal by Emily Labowitz with an assist from Carrie Healey before Mansfield rounded out the scoring on Wolski's fourth goal of the season.
Mansfield held a slight 24-23 shot advantage with freshman goalie Jamie Twist credited with 11 saves. Emily Falko had nine saves for Kutztown.
The win snapped a seven-game losing skid for Mansfield and was the Mountaineers first win over Kutztown since 2006.
Mansfield will host Millersville this Sunday starting at 1 p.m.
Field Hockey Game Summary (Final)
Kutztown vs Mansfield University (Sep 30, 2009 at Mansfield University)
Kutztown (7-4) vs. Mansfield University (3-8)
Date: Sep 30, 2009 Attendance: 59
Goals by period 1 2 Tot
-------------------------------
Kutztown............ 1 1 - 2
Mansfield University 4 3 - 7
SCORING SUMMARY:
1. 7:29 KUTZ Lauren Solley (11) (Kim Angstadt)
2. 24:50 MANS Kristyn Grunza (6) (Brittany Kostishion)
3. 26:03 MANS Jaimie Purdy (4) (unassisted)
4. 28:58 MANS Jaimie Purdy (5) (unassisted)
5. 31:02 MANS Jaimie Purdy (6) (Sami Swingle)
6. 44:53 MANS Danielle Hackenberg (unassisted)
7. 48:47 MANS Danielle Hackenberg (6) (Jess Wolski)
8. 49:12 KUTZ Emily Labowitz (1) (Carrie Healey)
9. 53:58 MANS Jessie Wolski (4)
Shots: Kutztown 23, Mansfield University 24
Saves: Kutztown 9 (Emily Falko 9), Mansfield University 11 (Jamie
Twist 11)