RELEASE DATE: 10/07/09
FOR IMMEDIATE RELEASE: Mounties drop 1-0 heartbreaker to IUP in overtime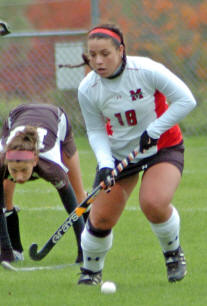 MANSFIELD – Laura Paanakker scored off a corner in the first minute of overtime to give IUP a 1-0 win over Mansfield in a physical PSAC West field hockey contest Tuesday afternoon at Spaulding Field.
The level of play was intense in the defensive struggle with IUP receiving five cards and injection during the game.
Mansfield held a 12-8 shots advantage and 12-5 advantage in corners but could not get the ball past IUP goalie Renee Lustenhouwer who was credited with five saves.
Brittany Kostishion and Kristy Tutorow each had two shots on goal for Mansfield while Jamie Twist recorded three saves in goal.
Paanakker scored the game-winner on a tip-in by the post off a shot from Caroline van Tulder.
The loss snaps a three-game winning streak for the Mountaineers and drops the Mountaineers overall record to 5-9 and 0-4 in the PSAC West.
Mansfield will host Houghton College in non-conference action this Friday.
Field Hockey Game Summary (Final)
IUP vs Mansfield University (Oct 07, 2009 at Mansfield University)
IUP (4-6-0) vs. Mansfield University (5-9-0)
Date: Oct 07, 2009 Attendance: 53
Weather: Windy
Goals by period 1 2 OT Tot
----------------------------------
IUP................. 0 0 1 - 1
Mansfield University 0 0 0 - 0
SCORING SUMMARY:
1. 70:56 IUP Laura Paanakker (1) (Caroline van Tulder) - Off corner play
Shots: IUP 8, Mansfield University 12
Saves: IUP 5 (Renee Lustenhouwer 5), Mansfield University 3 (Jamie
Twist 3)