RELEASE DATE: 10/22/09
FOR IMMEDIATE RELEASE: Mansfield field hockey drops 9-1 decision at East Stroudsburg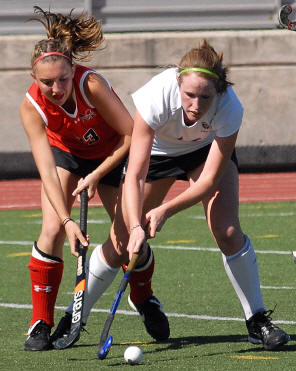 EAST STROUDSBURG – Jessica Frantz recorded a hat-trick to lead East Stroudsburg to a 9-1 win over Mansfield in field hockey Thursday afternoon.
East Stroudsburg scored the game's first five goals before Mansfield senior Hayley Tuckey, a converted goalie, scored her first career goal midway through the second half off an assist from Danielle Hackenberg.
Mansfield goalie Liz Phillippy recorded 29 saves.
Mansfield falls to 6-12 on the season and host No. 2 ranked Shippensburg on Saturday.
Field Hockey Game Summary (Final)
Mansfield University vs #4 East Stroudsburg (Oct 22, 2009 at East Stroudsburg PA)
Mansfield University (6-12) vs. East Stroudsburg (14-6)
Date: Oct 22, 2009 Attendance: 120
Weather:
Goals by period 1 2 Tot
-------------------------------
Mansfield University 0 1 - 1
East Stroudsburg.... 2 7 - 9
SCORING SUMMARY:
1. 3:22 ESU Molly McNeil (unassisted)
2. 6:55 ESU Jessica Frantz (Joanna Reckley)
3. 38:04 ESU Jessica Frantz (Kierstyn DeNardo)
4. 38:49 ESU Jessica Frantz (Joanna Reckley)
5. 46:00 ESU Caitlin Brownley (Kierstyn DeNardo)
6. 51:48 MANS Hayley Tuckey (Danielle Hackenberg)
7. 52:46 ESU Alyson Becker (unassisted)
8. 61:09 ESU Caitlin Brownley (Jessica Frantz)
9. 63:08 ESU Alyson Becker (unassisted)
10. 69:12 ESU Katie Anderson (Lauren Ventrella)
Shots: Mansfield University 14, East Stroudsburg 47
Saves: Mansfield University 29 (Liz Phillippy 29), East Stroudsburg 11
(Sarah Dobroskey 1; Maureen Ordnung 5; Jennifer Mullen 5)