RELEASE DATE: 9/16/09
FOR IMMEDIATE RELEASE: Late Mansfield Rally Falls Short in 6-5 Loss to No. 6 East Stroudsburg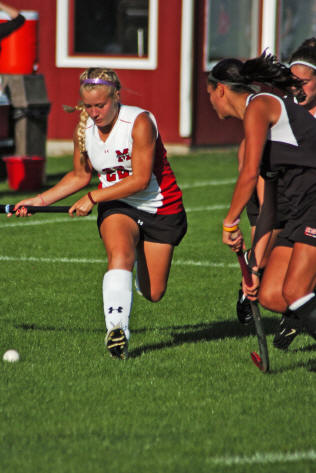 MANSFIELD – Mansfield scored three times over the final six minutes, including freshman Kristy Tutorow second goal of the game of the game, but fell just short of upsetting No. 6 ranked East Stroudsburg 6-5 at Spaulding Field Wednesday afternoon.
East Stroudsburg scored twice in the first 15 minutes, including a goal by Jessica Frantz less than two minutes into the game, before Mansfield cut the lead to 2-1 on freshman Tutorow's sixth goal of the season.
ESU increased its lead to 3-1 on a goal by Amanda McGuire less than two minutes before halftime and scored twice more in the first 10 minutes of the second half to go up 5-1.
Mansfield started to chip away less than a minute later when sophomore Sami Swingle scored her first collegiate goal.
East Stroudsburg answered back with Frantz's second goal, taking a 6-2 lead in the 52nd minute
A goal by freshman Alycia Pici in the 64th minute started a torrid Mansfield rally followed by goals from Jamie Purdy and Tutorow to Mansfield pull to 6-5 with less than two minutes to play.
East Stroudsburg improves to 7-1 on the season and handed head coach Sandy Miller her 300th career victory.
Jamie Twist and Haley Tuckey combined for six saves for Mansfield while falls to 2-5 on the season. The Mountaineers travel to Kutztown this Saturday.
Field Hockey Game Summary (Final)
FH2009
East Stroudsburg vs Mansfield University (Sep 16, 2009 at Mansfield University)
East Stroudsburg (7-1) vs. Mansfield University (2-5)
Date: Sep 16, 2009 Attendance: 62
Weather:
Goals by period 1 2 Tot
-------------------------------
East Stroudsburg.... 3 3 - 6
Mansfield University 1 4 - 5
SCORING SUMMARY:
1. 1:36 ESU Jessica Frantz (4) (Caitlin Brownley) - Scored off of corner
2. 15:48 ESU Brittany Kocis (2) (Jessica Frantz) - Penalty corner
3. 21:20 MANS Kristy Tutorow (6) (unassisted)
4. 33:44 ESU Amanda McGuire (2) (unassisted) - 13 yards out
5. 40:59 ESU Caitlin Brownley (9) Penalty corner - scored on breakaway
6. 45:46 ESU Caitlin Brownley (10) (unassisted) - offrebound
7. 46:38 MANS Sami Swingle (1) (unassisted)
8. 52:17 ESU Jessica Frantz (5) (Joanna Reckley)
9. 64:05 MANS Alycia Pici (3) (unassisted)
10. 65:14 MANS Jaimie Purdy (2) (Kristyn Grunza) - Off assist in fromt of net
11. 68:14 MANS Kristy Tutorow (7) (Sami Swingle) - took pass on right side
Shots: East Stroudsburg 23, Mansfield University 13
Saves: East Stroudsburg 5 (Maureen Ordnung 4; Jennifer Mullen 1),
Mansfield University 8 (Jamie Twist 3; Hayley Tuckey 3; TEAM 2)