RELEASE DATE: 10/10/09
FOR IMMEDIATE RELEASE: Mounties Hold Own Against #1 Nationally Ranked, Bloomsburg in 5-2 Loss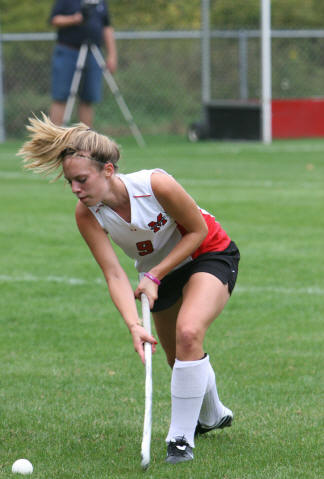 MANSFIELD: Brittany Kostishion was the only Mountaineer to find the back of the net as #1 Bloomsburg captured the win Saturday afternoon 5-2 during Mansfield's Homecoming Weekend.
Mansfield caught Bloomsburg off balance as the duo of Kostishion and Jessie Wolski shuffled down the field to give the Mountaineers their first goal of the game just three minutes into the game.
Three minutes later, Bloomsburg's Chelsea Due hit a ball that bounced off of Mansfield's Jamie Twist's foot pad and into the goal. Sandy Anceravage received a pass from Maggie Bloskey to give the Huskies their first lead of the game at the 13th minute mark.
Bloomsburg piled up another two goals before the end of the half as Due scored her second goal of the game unassisted at 18 minutes and Bloskey got a goal of her own off of an Amanda Riley assist in the 20th minute of play.
Mansfield and Bloomsburg went into a stalemate for the remaining of the first half with the score being 4-1 Bloomsburg.
The stalemate continued until the 60th minute of play when Kostishion capitalized off a penalty stroke situation after Wolski had missed her penalty stroke just 20 minutes earlier.
Bloskey drove in the final goal of the game in the 64th minute to make the final score 5-2.
Mansfield's Twist had nine saves while Bloomsburg's Caitlin Koczynski had seven. Mansfield's Talena Truitt and Wolski each had a defensive save.
Bloomsburg had 14 shots in the first half against Mansfield's four. In the second half, Mansfield held Bloomsburg to only nine shots while taking six of their own.
Bloomsburg had 16 opportunities off of penalty corners while Mansfield had ten corners.
Mansfield travels to Mercyhurst College this Tuesday October 13th for a 4 p.m. game.
Field Hockey Game Summary (Final)
FH2009
BloomsburgUniversity vs Mansfield University (Oct 10, 2009 at Mansfield University)
BloomsburgUniversity (14-1-0, 5-1-0) vs. Mansfield University (6-10-0, 0-5- 0)
Date: Oct 10, 2009 Attendance: 112
Weather: Rainy, Chilly, and Windy
Goals by period 1 2 Tot
-------------------------------
BloomsburgUniversity 4 1 - 5
Mansfield University 1 1 - 2
SCORING SUMMARY:
1. 3:27 MANS Brittany Kostishion (5) (Jessie Wolski)
2. 6:08 BLOOM Chelsea Due (7) (unassisted) - bounced off goalies foot pad and in the
3. 13:22 BLOOM Sandy Anceravage (6) (Maggie Bloskey)
4. 18:10 BLOOM Chelsea Due (8) (unassisted)
5. 20:12 BLOOM Maggie Bloskey (7) (Amanda Riley)
6. 59:23 MANS Brittany Kostishion (6) Penalty stroke
7. 64:50 BLOOM Maggie Bloskey (8) (unassisted)
Shots: BloomsburgUniversity 23, Mansfield University 10
Saves: BloomsburgUniversity 7 (Caitlin Koczynski 7), Mansfield
University 9 (Jamie Twist 9)