RELEASE DATE: 8/29/09
FOR IMMEDIATE RELEASE: Jess Wolski's hat-trick led Mansfield field hockey to 5-0 season opening win over St. Michael's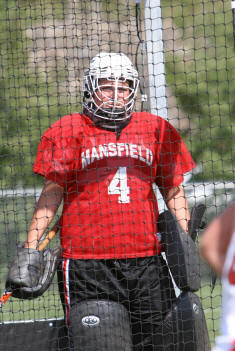 SHIPPENSBURG -- Sophomore Jess Wolski recorded a hat-trick and Hayley Tuckey and Liz Phillippy combined for a shutout to lead #9 Mansfield to 5-0 win over St. Michael's (VT) in the season opener for both teams at the Shippensburg Tournament Saturday afternoon.
Freshman Kristy Tutorow scored Mansfield first goal a little over eight minutes into the game off a pass from fellow freshman Kristyn Grunza and Wolski scored the first of her three goals 13 minutes later.
Wolski connected again with three minutes remaining in the first half off an assist from sophomore Danielle Hackenberg to give Mansfield a 3-0 halftime advantage.
Kristyn Grunza scored her first collegiate goal taking a pass from Brittany Kostishion in the 43rd minute with Wolski finishing off the scoring two minutes later off an assist from Courtney Grunza.
Tuckey had five saves in the first half while Phillippy was credited with four second half saves.
St. Michaelís Meghan McLaughlin recorded 15 saves.
Mansfield held a 27-13 shot advantage.
Mansfield will play Southern Connecticut tomorrow at 12:30 p.m. at Shippensburg.
Soccer Game Summary (Final)
#9 Mansfield University vs St. Michael's (Aug 29, 2009 at Shippensburg, PA)
Mansfield University (1-0) vs. St. Michael's (0-1)
Date: Aug 29, 2009 Attendance: 62
Weather:
Goals by period 1 2 Tot
-------------------------------
Mansfield University 3 2 - 5
St. Michael's....... 0 0 - 0
SCORING SUMMARY:
1. 8:41 MANS Kristy Tutorow (1) (Kristyn Grunza)
2. 19:45 MANS Jessie Wolski (1) (Kristyn Grunza)
3. 32:54 MANS Jessie Wolski (2) (Danielle Hackenberg)
4. 45:37 MANS Kristyn Grunza (1) (Brittany Kostishion)
5. 47:39 MANS Jessie Wolski (3) (Courtney Grunza)
Shots: Mansfield University 27, St. Michael's 13
Saves: Mansfield University 9 (Liz Phillippy 4; Hayley Tuckey 5), St.
Michael's 15 (Meghan McLaughlin 15)