RELEASE DATE: 9/9/09
FOR IMMEDIATE RELEASE: Mounties fall to IUP 3-0 in field hockey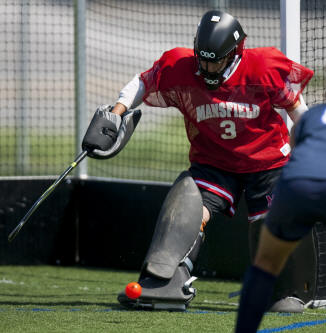 Indiana, PA – Mansfield freshman Jamie Twist recorded 14 saves but IUP scored twice in the second and turned away 15 shots for a 3-0 win in a PSAC West contest Wednesday afternoon.
Shannon Sullivan broke a 0-0 tie with a goal off an assist from Anouk Sickman in the 32nd minute to give IUP a 1-0 halftime advantage.
Jenna Humphreys increased the lead to 2-0 with a goal in the 46th minute and Caroline van Tulder closed out the scoring with a goal with five minutes to play.
Mansfield, ranked No. 9 in the latest NCAA Division II National poll, was credited with 20 shots but couldn't get the ball past Renee Lustenhouwer who had 15 saves, including 11 in the second half.
Mansfield falls to 2-2 on the season and 0-1 in the PSAC West. IUP improves to 1-3.
Mansfield will host Millersville in their home opener this Saturday starting at noon.