RELEASE DATE: 7/27/09
FOR IMMEDIATE RELEASE: Field hockey announces 2009 recruiting class and regular season schedule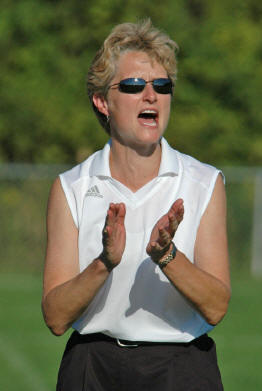 MANSFIELD – Mansfield University head field hockey coach Diane Monkiewicz has announced her 2009 recruiting class and 2009 regular season schedule.
"This is a very solid class," said Monkiewicz who is entering her 12th season at the helm of the Mountaineer field hockey program. "They're skilled players with speed as well as outstanding student-athletes. They should have an immediate impact in helping us this year."
The seven-member class includes a 1st Team All-State player (Kristyn Grunza) and four members of the National Honors Society (Grunza, Danielle Hackenberg, Alycia Pici, Kristy Tutorow).
The Mountaineers regular season schedule also includes seven of the top ten teams in the final 2008 STX/NFHCA Division II National Coaches Poll. Mansfield will play the top five ranked schools in the nation from last season including NCAA Division II National Champion Bloomsburg.
Mansfield finished with a 7-12 overall record in 2008 and was fourth in the PSAC West with a 3-5 mark.
The first regular season game is set for Aug. 29 against St. Michaels.
Mansfield University Field Hockey 2009 Recruiting Class
Marissa Bonnell (Muncy/Muncy) – 2nd team all-conference goalkeeper during senior and junior season's and two-year team captain. Also played softball in high school.
Kristyn Grunza (Nicholson/Lackawanna Trail) – 1st Team All-State selection on defense as senior while also serving as team captain. Helped lead team to District Championship while earning 1st Team All-Conference and Defensive Player of the Year honors. Member National Honor Society.
Danielle Hackenberg (Danville/Milton) – Two-year starter at midfield at Milton HS. Served as team captain. Member National Honor Society.
Alycia Pici (Elma,NY/Iroquois) – Team captain as senior and All-Western New York Honorable Mention in 2008. Led team in scoring and assists as senior while finishing second in goals scored. Graduated Magna Cum Laude and member of the National Honor Society.
Talena Truitt (McAllisterville/East Juniata) – Four-year starter at East Juniata and team captain junior and senior seasons. Honorable mention All-Conference in 2007-08. Can play at mid or back.
Kristy Tutorow (Shickshinny/Northwest) – Four-year starter at Northwest High School serving as team captain for three seasons. Helped led team to undefeated regular season in 2008. Projected to play forward at Mansfield. Member National Honor Society.
Jamie Twist (Rochester,NY/Brighton) – Recorded 253 saves as senior, seven shy of New York State single season record. Had a .848 save percentage with 145 saves as a junior. Team captain in 2008 as well as 1st Team All-County and 1st Team All-Greater Rochester.
2009 Mansfield University Field Hockey Schedule
Sat. Aug. 29 vs Southern Connecticut University at Shippensburg University 2:30 p.m.
Sun. Aug. 30 vs St. Michaels College at Shippensburg University 12:30 p.m.
Sat. Sept. 5 vs University of Massachusetts at University of Scranton TBA
Wed. Sept. 9 at Indiana University of Pennsylvania 4:00 p.m.
Sat. Sept. 12 MERCYHURST COLLEGE Noon
Sun. Sept. 13 at Millersville University 1:00 p.m.
Wed. Sept. 16 EAST STROUDSBURG UNIVERSITY 4:00 p.m.
Sat. Sept. 19 at Kutztown University 1:00 p.m.
Tue. Sept. 22 at Slippery Rock University 4:00 p.m.
Sat. Sept. 26 at Shippensburg University Noon
Wed. Sept. 30 KUTZTOWN UNIVERSITY 4:00 p.m.
Sat. Oct. 3 at Houghton College Noon
Sun. Oct. 4 MILLERSVILLE UNIVERSITY 1:00 p.m.
Wed. Oct. 7 INDIANA UNIVERSITY OF PENNSYLVAINA 4:00 p.m.
Fri. Oct. 9 SETON HILL UNIVERSITY 4:00 p.m.
Sat. Oct. 10 BLOOMSBURG UNIVERSITY Noon
Tue. Oct. 13 at Mercyhurst College 4:00 p.m.
Sat. Oct. 17 SLIPPERY ROCK UNIVERSITY Noon
Thur. Oct 22 at East Stroudsburg University 4:00 p.m.
Sat. Oct. 24 SHIPPENSBURG UNIVERSITY** Noon
**Denotes Recognition Day/Family & Friends Day