RELEASE DATE: 8/24/09
FOR IMMEDIATE RELEASE: Mansfield field hockey team opens 2009 campaign this weekend – Mountaineers led by All-Americans Courtney Grunza and Brittany Kostishion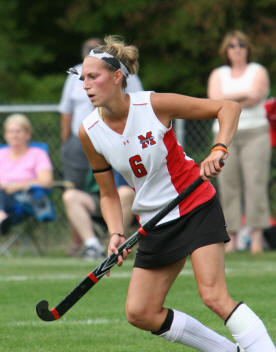 MANSFIELD – The Mansfield University field hockey team will open the 2009 campaign this weekend when they travel to Shippensburg to play St. Michaels College on 2:30 on Saturday and Southern Connecticut at 12:30 p.m. on Sunday.
The Mountaineers, who played the toughest schedule in the nation in NCAA Division II last season, will compete for the second year in the PSAC West. Mansfield's regular season schedule also includes games against seven of the top ten teams in the final 2008 STX/NFHCA Division II National Coaches Poll. Mansfield will play the top five ranked schools in the nation from last season, including NCAA Division II National Champion Bloomsburg.
Now in her 12th season at Mansfield, head coach Diane Monkiewicz returns a strong-core of veterans from last year's 7-12 squad led by senior co-captains and 2008 All-American's Courtney Grunza (Nicholson/Lackawanna Trail) and Brittany Kostishion (Perkasie/Pennridge).
Also returning are sophomore's Jaimie Purdy (Erieville,NY/Cazenovia) and Jessie Wolski (Barker,NY/Barker Central), both of whom earned national All-Rookie honors as freshmen last season along with fellow sophomore Sami Swingle (Hunlock Creek/Lake Lehman) who started all 19 games as a freshman.
Mansfield did lose last year's top two scoring leaders to graduation, but expects Wolski and Purdy to take up any scoring slack after the pair combined for six goals and 17 points in 2008.
The offense also expects a big boost from a very talented incoming class that will include Alycia Pici ( Elma, NY/Iroquois) and Kristy Tutorow (Shickshinny/Northwest Area) on the attack. Both have great speed and skills that should translate into increased scoring opportunities for the Mountaineers.
Led by Kostishion, a two-time All-PSAC selection, the midfield will play a big role in the team's success this season. Freshman Kristyn Grunza – Courtney's younger sister – was one of the top players in Pennsylvania as a senior in high school earning 1st Team All-State honors. Sophomore Danielle Hackenberg (Danville/Milton) will also vie for a spot on the forward line.
Swingle could play one of the mid spots, or on defense, after starting every game last year.
The heart of the defense will again be Courtney Grunza. One of the top defensive player's in school history, Grunza has started every game of her collegiate career earning All-PSAC as well as All-American honors.
Sophomore Jillian Richards (Macedon,NY/Penfield) has earned a starting spot after appearing in 14 games during her freshman season. Freshman Talena Truitt (McAlisterville /East Juniata) is a versatile player who will also be vying for a starting role.
The Mountaineers will have plenty of depth at goalie with senior Hayley Tuckey (Courtright,ONT/SCITS) and sophomore Liz Phillippy (Jonestown/Annville-Cleona) joined by freshmen Marissa Bonnell (Muncy/Muncy) and Jamie Twist (Rochester,NY/Brighton).
The Mountaineers are on the road for the first four games of the season before hosting Mercyhurst on Sept. 12 at Spaulding Field.