RELEASE DATE: 10/7/08
FOR IMMEDIATE RELEASE: Field hockey improves to 7-7 overall and 3-3 in PSAC West with 2-1 win at Slippery Rock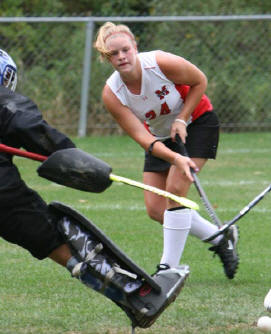 SLIPPERY ROCK – Brittany Kostishion and Laura Carden each scored a goal and goalie Brianna DeLuca recorded six saves to lead Mansfield to a 2-1 win over Slippery Rock in a PSAC West contest Wednesday afternoon.
Kostishion scored her first goal of the season three minutes into the game and Carden scored what would prove to be the game-winner in the 23rd minute off an assist from Kelly Klimkowski.
Slippery Rock got a second half goal from Skyler Brosse. Lisa Belcastro had eight saves in goal for Slippery Rock.
Mansfield held a 16-14 shot advantage and 10-6 advantage on penalty corners.
Mansfield swept the two-game season series with Slippery Rock to improve to 7-7 overall and 3-3 in PSAC West play.
The Mountaineers travel to East Stroudsburg this Saturday.
Field Hockey Game Summary (Final)
Mansfield University vs Slippery Rock (Oct 7, 2008 at Slippery Rock, Pa.)
Mansfield University (7-7) vs. Slippery Rock (2-11)
Goals by period 1 2 Tot
-------------------------------
Mansfield University 2 0 - 2
Slippery Rock....... 0 1 - 1
SCORING SUMMARY:
1. 3:47 MANS Brittany Kostishion (unassisted)
2. 22:54 MANS Laura Carden (Kelly Klimkowski)
3. 40:30 ROCK Skyler Brosse (unassisted)
Shots: Mansfield University 16, Slippery Rock 14
Saves: Mansfield University 6 (Brianna DeLuca 6), Slippery Rock 8
(Lisa Belcastro 8)