RELEASE: 8/29/08
FOR IMMEDIATE RELEASE: Mansfield wins field hockey season opener 6-2 over Southern Connecticut – Laura Carden and Jaimie Purdy score two goals each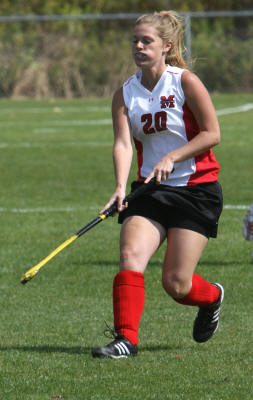 NEW HAVEN, CT – Senior Laura Carden (Friendsville/Montrose) and freshman Jaimie Purdy (Erieville,NY/Cazenovia) each scored two goals to lead Mansfield to a 6-2 win over Southern Connecticut in the 2008 field hockey opener for both schools Friday afternoon in New Haven, CT.
Mansfield, ranked #10 in the NCAA Division II preseason poll, scored the first six goals including four in the first half. It was the most goals scored in a game by the Mountaineers since a 6-0 shutout over Millersville midway through the 2006 season.
Senior forward Rebekah Brown (Equinok/Hanover Central) opening the scoring with her first collegiate goal just three minutes into the game tipping a pass from freshman Jessie Wolski (Barker,NY/Barker Central).
Carden recorded her first collegiate goals 10 minutes late knocking in a rebound off the goalie's pads before Purdy scored her first goal on an assist from Shana Markwis (Milford/Delaware Valley) in the 20th minute.
Carden scored her second goal of the half fur minutes later placing a shot through the goalies legs and giving the Mountaineers a 4-0 halftime lead.
Purdy stuck again five minutes into the second half on an assist from Markwis off a corner. Freshman Jordan Rishel (Muncy/Muncy) scored Mansfield's final goal with Carden credited with the assist in the 46th minute.
Southern Connecticut got the final two games of the game 90 seconds apart on goals by Ann Berry and Whitney Martin.
Senior goalie Brianna DeLuca (West Grove/Avon Grove) stopped eight shots and Southern Connecticut held a 17-15 shot advantage.
Mansfield plays Bentley College at Southern Connecticut tomorrow and travels to Bryant College in Rhode Island on Monday before returning home.