RELEASE DATE: 10/14/08
FOR IMMEDIATE RELEASE: #3 Shippensburg edges Mansfield 3-2 in PSAC West field hockey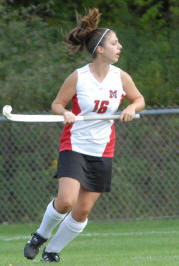 MANSFIELD – Rebekah Brown tied the game 2-2 in the 60th minute but Shippensburg's Laura Wylde scored the game-winner less than two minutes later to lead #3 Shippensburg to a 3-2 win over Mansfield in a PSAC West matchup Tuesday afternoon at Spaulding Field.
Shippensburg took an early lead scoring on a Jamie Doughty goal two minutes into the game and held the lead until Mansfield's Lauren Carden scored an unassisted goal 10 minutes later.
Shippensburg retook the lead on a goal by Kristina Taylor in the 26th minute with the Raiders holding a 2-1 halftime advantage.
Neither team managed to score in the first 25 minutes of the second half until Brown put back a rebounded ball for her fourth goal of the season tying the score at 2-2.
But Shippensburg answered right back with Wylde scoring the game winner in a flurry of action in front of the Mansfield net.
It was a huge improvement for Mansfield over the first meeting of the two schools this season when Shippensburg recorded a 7-0 win.
Brianna DeLuca had five saves in goal for Mansfield while Shippensburg's Amanda Houser was credited with nine saves.
Mansfield falls to 6-0 overall and 3-4 in the PSAC West while Shippensburg improves to 12-3 and 4-2 in conference play.
Mansfield travels to Millersville this Saturday.
Field Hockey Game Summary (Final)
Shippensburg vs Mansfield University (Oct 14, 2008 at Mansfield University)
Shippensburg (12-3-0) vs. Mansfield University (6-8-0)
Date: Oct 14, 2008 Attendance: 63
Weather: warm and overcast
Goals by period 1 2 Tot
-------------------------------
Shippensburg........ 2 1 - 3
Mansfield University 1 1 - 2
SCORING SUMMARY:
1. 2:25 SHIP Jamie Doughty (8) (Natalie Faith) - assist from 20 in front of goal
2. 12:48 MANS Laura Carden (11) (unassisted) - unassisted off of goalie pad
3. 25:26 SHIP Kristina Taylor (8) (unassisted) - fast break goal
4. 60:02 MANS Rebekah Brown (4) (unassisted) - unassisted off of the rebound
5. 61:49 SHIP Laura Wylde (7) (Dani Haas) - assisted by 15 in front of goal
Shots: Shippensburg 17, Mansfield University 15
Saves: Shippensburg 9 (Amanda Houser 9), Mansfield University 5
(Brianna DeLuca 5)