RELEASE DATE: 9/13/08
FOR IMMEDIATE RELEASE: Field hockey blanked at #3 Shippensburg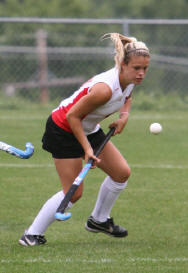 SHIPPENSBURG – The Mansfield University offense never got untracked in a 7-0 loss at #3 Shippensburg Saturday afternoon.
Shippensburg scored three first half goals and four in the second half in handing the #7 ranked Mountaineers their most lopsided loss since suffering a 10-0 defeat at then #1 ranked Shippensburg in final game of the 2005 season.
Mansfield was outshot 25-5 in the game with Brianna DeLuca credited with nine saves and Hayley Tuckey one.
Mansfield falls to 4-2 overall and 2-1 in the PSAC West. Shippensburg improves to 4-1 overall and 1-1 in the PSAC West.
Mansfield will host East Stroudsburg on Tuesday afternoon.
Field Hockey Game Summary (Final)
#7 Mansfield University vs #3 Shippensburg (Sep 13, 2008 at Shippensburg, PA)
Mansfield University (4-2, 2-1 PSAC West) vs. Shippensburg (4-1, 1-1 PSAC West)
Date: Sep 13, 2008 Attendance: 102
Weather: Sunny and humid - mid 80s
Goals by period 1 2 Tot
-------------------------------
Mansfield University 0 0 - 0
Shippensburg........ 3 4 - 7
SCORING SUMMARY:
1. 1:21 SHIP Jamie Doughty (1) (Natalie Faith)
2. 18:20 SHIP Kim Davies (6) (unassisted)
3. 23:04 SHIP Kim Davies (7) (Dani Haas) - Penalty corner
4. 39:11 SHIP Kristina Taylor (3) (unassisted)
5. 48:57 SHIP Jamie Doughty (2) (unassisted)
6. 60:00 SHIP Carolyn Swift (1) (Amanda Strous)
7. 61:29 SHIP Laura Wylde (2) (unassisted)
Shots: Mansfield University 5, Shippensburg 25
Saves: Mansfield University 10 (Brianna DeLuca 9; Hayley Tuckey 1),
Shippensburg 4 (Amanda Houser 4)