RELEASE DATE: 8/15/08
FOR IMMEDIATE RELEASE: Field Hockey Coming Together Quickly in Day Five of Preseason Camp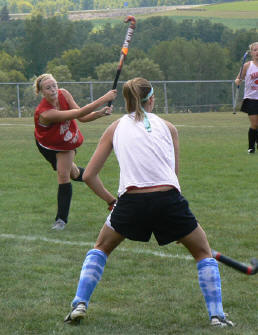 MANSFIELD – With eight freshmen of the roster one of the goals of the Mansfield University field hockey team during preseason camp was developing team chemistry.
After the first five days of camp the 2008 Mountaineers seemed to have already passed that test.
"We've come together more quickly than I expected," said Head Coach Diane Monkiewicz. "Developing team chemistry is always a big challenge when you bring in such a large recruiting class but this group seems to be ahead of schedule."
"I'm pleased with the skills level of the freshmen and pleased with the attitude of the returning veterans."
The team wrapped up day five of preseason camp with an afternoon 7-on-7 scrimmage session in the afternoon and will enjoy a much deserved evening off before hitting the pitch for a double session on Saturday.
The Mountaineers will host Houghton College in a scrimmage on Tuesday afternoon starting at 1 p.m.