Field hockey ranked #10 in nation in NCAA Division II National Preseason Poll – Mountaineers open 2008 season with three game swing through New England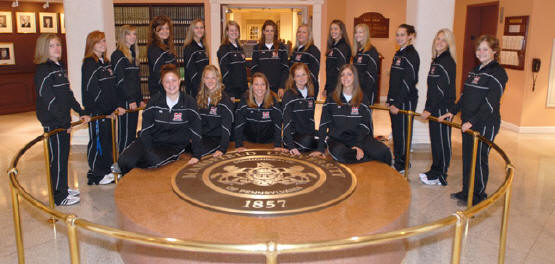 MANSFIELD – The Mansfield University field hockey team is projected to do as well as they did last season according the STX/NFHCA NCAA Division II Preseason Coaches Poll.
That's pretty good.
The panel of NCAA Division II head coaches picked Mansfield #10 in the preseason poll, the same spot the Mountaineers finished the 2007 season.
Mansfield went 11-7 last season with all seven losses coming against nationally ranked programs and featured one of the best scoring attacks in the country.
But head coach Diane Monkiewicz will be challenged to repeat that offensive success after losing the teams top four scorers from last season. Together they accounted for all but two of the Mountaineers 43 goals on the year..
While the 2008 team may have some early season questions on offense, it does feature a solid and experienced defense.
Senior goalie Brianna DeLuca (West Grove/Avon Grove) returns in the net where she earned All-PSAC honors last season and recorded two shutouts. DeLuca will enjoy plenty of backup from junior Haley Tuckey (Courtright,ONT/SCITS) and freshman Liz Phillippy (Jonestown/Annville-Cleona).
Junior Courtney Grunza (Nicholson/Lackawanna Trail) will anchor the defense after earning All-PSAC honors last season. Grunza has been one of the top players on the field for the Mountaineers in each of her first two seasons and should have an even greater role this year.
Joining Grunza in the backfield is senior Shantee Proctor (Forty Fort/Wyoming Valley West) who has started as sometime during all her first three seasons. Freshman Sami Swingle (Hunlock Creek/Lake-Lehman) won the other starting defender spot during preseason camp.
Fellow freshman Jillian Richards (Macedon,NY/Penfield) will see plenty of action on a rotation basis.
Mansfield has its most experience on the mid-line. Center-mid Shana Markwis (Milford/Delaware Valley) returns for her senior year where she has been one of the most dominant position players in the country. Junior Brittany Kostishion (Perkasie/Pennridge) started all 18 games at midfield last season where she recorded two assists.
Also back at midfield is junior Kelly Klimkowski (Lebanon/Cedar Crest). A physical player with improving skills, Klimkowski also started all 18 games last year. Freshman Jordan Rishel (Muncy/Muncy) will also see time at midfield.
Although the Mountaineers may not have proven scorers on the front line to start the 2008 campaign, they will have plenty of experience in seniors Rebekah Brown (Equinunk/Hancock Central) and Laura Carden (Friendsville/Montrose) who have played in a combined 76 games during their Mountaineer careers.
Freshman Jessie Wolski (Baker,NY/Baker Central) captured a starting spot on the front line as did fellow freshman Jamie Purdy (Erieville,NY/Cazenovia) with a solid preseason camp.
Junior Kayla Cater (Danville/Danville) will see plenty of action in a rotation role.
Mansfield will get a stiff test to start the season with a three game swing through New England. The Mountaineers open the season on Aug. 29 at Southern Connecticut followed by games at Bentley College (Aug. 30) and Bryant College (Sept. 1) before hosting Mercyhurst on Sept. 6.
2008 STX/NFHCA Division II Preseason Poll
| | | |
| --- | --- | --- |
| Ranking | Institution | Points (first place votes in parentheses) |
| 1. | Bloomsburg University | 115 (9) |
| 2. | UMASS-Lowell | 103 (3) |
| 3. | Indiana University of PA | 99 |
| 4. | Shippensburg University | 70 |
| 5. | Kutztown University | 60 |
| 6. | Bentley College | 51 |
| Tie | Stonehill College | 51 |
| 8. | C.W. Post | 34 |
| 9. | East Stroudsburg University | 23 |
| 10. | Mansfield University | 19 |