RELEASE DATE: 9/06/08
FOR IMMEDIATE RELEASE: Mansfield rallies to win first ever PSAC West game 3-1 over Mercyhurst – Laura Carden scores two goals and Jessie Wolski adds a goal and two assists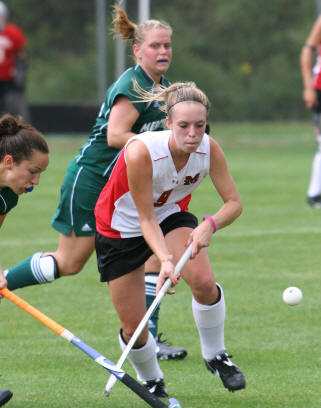 MANSFIELD – Senior Laura Carden scored two goals and freshman Jessie Wolski added a goal and two assists to lead Mansfield to a 3-1 come-from-behind win over Mercyhurst Saturday afternoon at Spaulding Field.
It was an historic win for the Mountaineers who were playing their first game in the PSAC West after the conference added Mercyhurst and C.W. Post this season and split into two divisions for the first time.
Mercyhurst scored the games first goals when Serena Slattery took a pass off a penalty corner from Courtney Loper and put it into the net in the 27th minute.
Mansfield carried play for much for first half holding a 13-2 shot advantage but still trailed 1-0 at halftime.
Mansfield tied the score in the first minute of the second half with Wolski scoring off a scramble in front of the net.
The Mountaineers took the lead for good five minutes later when Carden scored the first of her two goals off an assist from Wolski.
Carden put the game out of reach, scoring again with just over six minutes to play off a Wolski assist. The senor forward now has five goals in four games on the season.
Mansfield held a 20-6 shot advantage in the game in improving to 3-1 on the season and 1-0 in the PSAC West.
Mansfield will host Slippery Rock on Wednesday afternoon starting at 4 p.m.
Mercyhurst College vs Mansfield (Sep 06, 2008 at Unknown)
Mercyhurst College (0-2, 0-1) vs. Mansfield (3-1, 1-0)
Date: Sep 06, 2008 Attendance: 147
Weather:
Goals by period 1 2 Tot
-------------------------------
Mercyhurst College.. 1 0 - 1
Mansfiel............ 0 3 - 3
SCORING SUMMARY:
1. 26:41 MC Serena Slattery (Courtney Loper) - Penalty corner
2. 35:51 MANS Jessie Wolski (unassisted)
3. 41:04 MANS Laura Carden (Jessie Wolski)
4. 53:11 MANS Laura Carden (Jessie Wolski)
Shots: Mercyhurst College 6, MANS 20
Saves: Mercyhurst College 9 (Jennifer Coleman 9), MANS 1 (Hayley
Tuckey 1)