RELEASE DATE: 10/26/08
FOR IMMEDIATE RELEASE: Mounties throw a scare into #2 IUP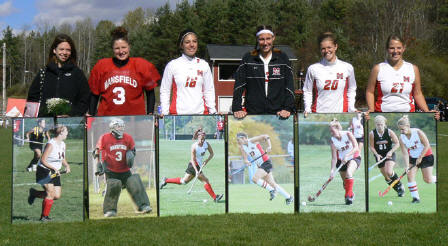 MANSFIELD, PA Ė Brittany Kostishion (Perkasie/Pennridge) tied the game on a penalty stroke in the 64th minute but IUP rallied with a goal in the last five minutes to pull out a 2-1 win over Mansfield in PSAC West field hockey matchup Sunday afternoon at Spaulding field.
The game marked the final home game of the 2008 season and was also the final game for seniors Brianna DeLuca (West Grove/Avon Grove), Beka Brown (Equinunk/Hancock Central), Shana Markwis (Milford/Delaware Valley), Shantee Proctor (Forty Fort/Wyoming Valley West), Laura Carden (Friendsville/Montrose) and Kelly Whiston (Gilbersville/Boyertown) who were honored in pre game ceremonies.
In a hard fought and physical game the two teams battled to a scoreless tie in the first half before IUPís Irma Bakker scored off an assist from Brittany Owens two minutes into the second half.
Mansfield tied the game when the mountaineers Kostishion was awarded a penalty stroke and put the ball into the upper left hand corner of the net just beyond the reach of the goalie Lydia Dolly.
But IUP, ranked 2nd in the nation in the latest NCAA Division II national poll, retook the lead less than two minutes later when Owens scored off a rebounded shot on goal.
IUP held a 17-15 advantage in shots with Dolly credited with 10 saves while Mansfield goalie DeLuca had eight saves.
Mansfield had one last chance to tie the game but Dolly denied shots by Carden and Jess Wolski (Barker/Barker Central) with less than two minutes to play. IUP improves to 14-1 overall while Mansfield falls to 7-12 on the season.

Field Hockey Game Summary (Final)
IUP vs MANS (Oct 26, 2008 at Mansfield University)


IUP (14-1-0, 7-1-0) vs. MANS (7-12-0, 3-5-0)
Date: Oct 26, 2008 Attendance: 177
Weather: partly cloudy

Goals by period 1 2 Tot
-------------------------------
IUP................. 0 2 - 2
MANS................ 0 1 - 1

SCORING SUMMARY:
1. 37:15 IUP Irma Bakker (7) (Brittany Owens) - assisted across the front of the goal by
2. 64:11 MANS Brittany Kostishion Penalty stroke
3. 64:59 IUP Brittany Owens (15) (unassisted) - shot off save rebound

Shots: IUP 17, MANS 15
Saves: IUP 10 (Lydia Dolly 10), MANS 8 (Brianna DeLuca 8)