RELEASE DATE: 8/22/08
FOR IMMEDIATE RELEASE: Field hockey scrimmages Houghton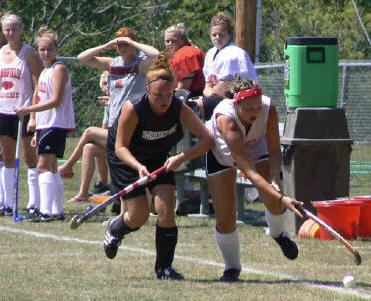 MANSFIELD – Under a clear blue sky and warm temperatures the Mansfield University field hockey team got to test itself in semi-game conditions in a scrimmage against Houghton College Friday afternoon at Spaulding Field.
Although, by NCAA regulations, no score was kept and the teams played four 15 minute periods instead of two 35 minute halves, the scrimmage was conducted under near-game conditions including officiated by certified referees.
Mansfield had a good amount of bright moments as the team is still experimenting with different lineups and developing team chemistry.
The scrimmage marks the end of a sometimes grueling but always productive preseason camp. Classes for the fall semester begin on Monday.
The Mountaineers will scrimmage Elmira College Tuesday afternoon at Spaulding Field in their final tune up before opening the 2008 season at Southern Connecticut University on Friday, August 29.