RELEASE DATE: 9/16/2008
FOR IMMEDIATE RELEASE: #9 Mansfield upsets #6 East Stroudsburg 3-1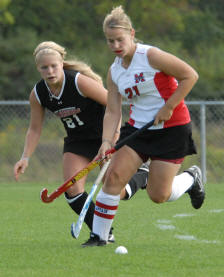 MANSFIELD – Senior Laura Carden scored two goals and freshman Jaimie Purdy added another to lift Mansfield to a 3-1 win over East Stroudsburg in field hockey action Tuesday afternoon at Spaulding Field.
East Stroudsburg was ranked #6 in the nation and Mansfield #9 in the latest STX/NFHCA Poll released this morning.
Mansfield scored the games first goal at the 14 minute mark when Purdy took a cross from Rebekah Brown and put it past the goalie.
East Stroudsburg tied the game with less than two minutes remaining in the first half when Kierstyn DeNardo put back a rebounded shot off a defensive save by Shantee Proctor.
Carden scored her first goal three minutes into the second half driving a hard shot through the goalies pads from seven yards out off a nice assist by freshman Jessie Wolski.
Carden added the game's final goal in the 59th minute from 14-yards out on an assist from freshman Jordan Rishel.
Mansfield held a 12-5 shot advantage in the game.
Mansfield improves to 5-2 overall and host Millersville on Saturday at noon.
Field Hockey Game Summary (Final)
ESU vs Mansfield University (Sep 16, 2008 at Mansfield)
ESU (4-3) vs. Mansfield University (5-2)
Date: Sep 16, 2008 Attendance: 56
Weather:
Goals by period 1 2 Tot
-------------------------------
ESU................. 1 0 - 1
Mansfield University 1 2 - 3
SCORING SUMMARY:
1. 14:17 MANS Jaimie Purdy (3) (Rebekah Brown) - crfoss from 5 yds out
2. 33:10 ESU Kierstyn DeNardo (4) (unassisted) - unassisted off of rebound
3. 38:02 MANS Laura Carden (7) (Jessie Wolski) - 7 yds out between GK pads
4. 59:49 MANS Laura Carden (8) (Jordan Rishel) - 14yds out to the left corner of the goal
Shots: ESU 5, Mansfield University 12
Saves: ESU 4 (Carolyn Kisling 4), Mansfield University 2 (Brianna
DeLuca 1; TEAM 1)