RELEASE DATE: 9/01/08
FOR IMMEDIATE RELEASE: Mansfield suffers first loss of season in 3-2 setback at Division I Bryant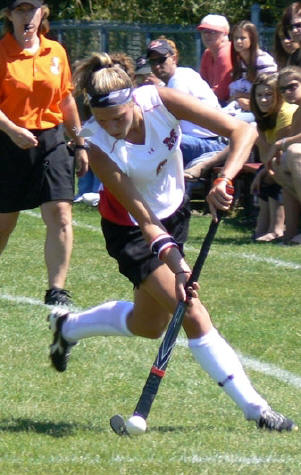 SMITHFIELD, RI – Seniors Laura Carden and Rebekah Brown each scored a goal but a late Mansfield rally fell short in a 3-2 loss at Division I Bryant University Monday afternoon in Smithfield, RI.
It was the first loss of the season for Mountaineers who had defeated Southern Connecticut and Bentley earlier in the first two games of a season opening Labor Day Weekend road-trip through New England.
Carden recorded her third goal of the young season to open the scoring on a pass form freshman Jessie Wolski 15 minutes into the game.
Bryant tied the score at 1-1 five minutes before the end of the first half on a goal by Julie Kuchyt.
Bryant took the lead in the 44th minute on a goal by Courtney Landi and increased the advantage to 3-1 on a goal by Elise Boissoneau with three minutes to play.
Mansfield (2-1) came right back 30 seconds later when Brown scored off an assist from Carden, closing the gap with 3-2 with just over two minutes to play. The Mountaineers couldn't get off another shot as time expired.
Brianna DeLuca had six saves in goal for Mansfield while Kundayi Mawema had four stops for Bryant
Bryant (1-2) held a 15-12 shot advantage while Mansfield had six penalty corners to Bryant's two.
Mansfield will open the PSAC West season by hosting Mercyhurst on Saturday at noon.
Field Hockey Game Summary (Final)
Mansfield vs Bryant University (Sep 01, 2008 at Smithfield, RI)
Mansfield (2-1-0) vs. Bryant University (1-2-0)
Date: Sep 01, 2008 Attendance: 219
Weather:
Goals by period 1 2 Tot
-------------------------------
MANS................ 1 1 - 2
Bryant University... 1 2 - 3
SCORING SUMMARY:
1. 15:14 MANS Laura Carden (3) (Jessie Wolski)
2. 29:50 BRY Julie Kuchyt (1) (unassisted)
3. 43:59 BRY Courtney Landi (1) (Alexandra Czerniak)
4. 67:13 BRY Elise Boissoneau (1) (unassisted)
5. 67:43 MANS Rebekah Brown (2) (Laura Carden)
Shots: MANS 12, Bryant University 15
Saves: MANS 6 (Brianna DeLuca 6), Bryant University 4 (Kundayi Mawema
4)
2008 home opener