RELEASE DATE: 10/05/08
FOR IMMEDIATE RELEASE: Field Hockey Wins 2-0 against Bellarmine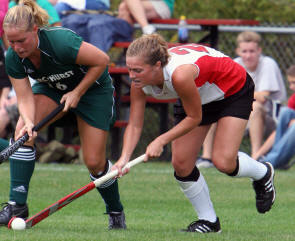 The Mountaineer Field Hockey team traveled to Mercyhurst in Erie, Pa to play Bellarmine University (Ky).
Senior Laura Carden opened the day up with a goal off an assist by junior Kelly Klimkowski. Klimkowski finished the scoring by getting a goal of her own from an assist by freshman, Jaimie Purdy.
Brianna Deluca had a shutout with three saves, all of which were in the second half.
The win now brings the Mountaineer's overall record to 6-7 ending a five-game losing streak.
Mansfield will travel to Slippery Rock University on October 8 to play at 4 pm.