RELEASE DATE: 3/05/09
FOR IMMEDIATE RELEASE: Mansfield field hockey team awarded All-Academic honors - eight players individually recognized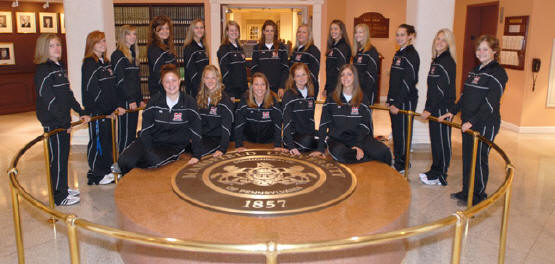 MANSFIELD – The Mansfield University 2008 field hockey team has been awarded a Division II National Academic Team by the National Field Hockey Coaches Association (NFHCA).
This year's award comes after the Mansfield field hockey team placed first in the country in academic performance during the 2007 season.
The NFHCA considers National Academic Teams to be those which maintain an overall grade point average (GPA) of 3.0 or higher (out of a possible 4.0) during the semester in which the team competes.
19 Division II teams were given All-Academic honors during the 2008 season, including seven from the Pennsylvania State Athletic Conference.
Eight Mansfield field hockey players were recognized as National Academic Squad members for their individual academic performance during the 2008 season. These players achieved a cumulative GPA of 3.3 or higher through the 2008 field hockey season:
Rebekah Brown, Laura Carden, Courtney Grunza, Shana Markwis, Shantee Proctor, Jaimie Purdy, Jordan Rishel, and Jessie Wolski.
Carden, Markwis, and Proctor are each four-year award recipients.