RELEASE DATE: 9/10/08
FOR IMMEDIATE RELEASE: Mansfield field hockey improves to 4-1 with 3-1 win over Slippery Rock – Mounties remain undefeated in PSAC West play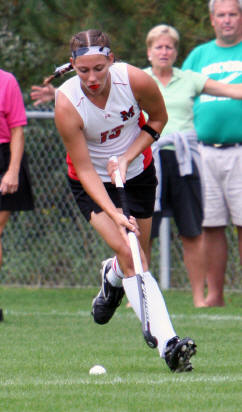 MANSFIELD – Laura Carden, Shana Markwis and Kayla Carter each scored a goal to lead #7 Mansfield to a 3-1 win over Slippery Rock in a PSAC West game Wednesday afternoon at Spaulding Field.
Carden scored the games first goal in the 27th minute off an assist from Rebekah Brown. Markwis gave Mansfield a 2-0 leading scoring from 15 yards out off an assist from Kelly Klimkowski after a corner.
Slippery Rock's Samantha Badaczewski scored a goal in the second half off an assist from Allie Hartman to bring Slippery Rock as close as they could be to tying the game as the score was 2-1.
Carter topped off the scoring for the Mountaineers when she drove the ball downfield and placed a shot up over the goalie's leg pads to bring the Mountaineers to their winning score of 3-1.
Mansfield led Slippery Rock in shots 12-6 and shots on goal 5-3.
Brianna DeLuca recorded the win for the day as she had two saves.
Mansfield travels to Shippensburg University on the 13th and has their next home game on the 16th against East Stroudsburg at 4 pm.

Field Hockey Game Summary (Final)
FH2008
Slippery Rock vs Mansfield University (Sep 10, 2008 at Mansfield)


Slippery Rock (2-3, 0-2) vs. Mansfield University (4-1, 2-0)
Date: Sep 10, 2008 Attendance: 55
Weather:

Goals by period 1 2 Tot
-------------------------------
Slippery Rock....... 0 1 - 1
Mansfield University 2 1 - 3

SCORING SUMMARY:
1. 17:26 MANS Laura Carden (Rebekah Brown)
2. 28:38 MANS Shana Markwis (Kelly Klimkowski) - 15 yds out straight ahead
3. 48:31 ROCK Samantha Badaczewski (Allie Hartman) - 10 yds, straight out
4. 54:13 MANS Kayla Carter (unassisted) - 5 yds out to the left

Shots: Slippery Rock 6, Mansfield University 12
Saves: Slippery Rock 2 (Lisa Belcastro 2), Mansfield University 2
(Brianna DeLuca 2)