RELEASE DATE: 9/20/08
FOR IMMEDIATE RELEASE: Women's Field Hockey Falls In Overtime to Millersville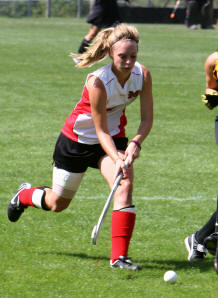 MANSFIELD – Mansfield University field hockey lost 1-0 to Millersville University in non-conference, overtime action Saturday afternoon.
Millersville's Jessica Cave shot the ball just three minutes into the overtime period and placed it into the bottom right corner of Brianna DeLuca's goal from 10 yards out.
Mansfield did however won the battle of shots as they out shot Millersville 8-6.
Mansfield's DeLuca had three saves while Millersville's Sara Dickinson had five.
Mansfield will next host Kutztown University on September 25 at 4 pm.
Field Hockey Game Summary (Final)
FH2008
Millersville Univ. vs Mansfield University (Sep 20, 2008 at Mansfield)

Millersville Univ. (1-5) vs. Mansfield University (5-4)
Date: Sep 20, 2008 Attendance: 88
Weather:

Goals by period 1 2 OT Tot
----------------------------------
Millersville Univ... 0 0 1 - 1
Mansfield University 0 0 0 - 0

SCORING SUMMARY:
1. 73:22 MILL Jessica Cave (2) (unassisted) - 10 yards out bottom right corner

Shots: Millersville Univ. 6, Mansfield University 8
Saves: Millersville Univ. 5 (Sara Dickinson 5), Mansfield University 3
(Brianna DeLuca 3)