RELEASE DATE: 10/18/08
FOR IMMEDIATE RELEASE: Field Hockey Falls In First Half To Millersville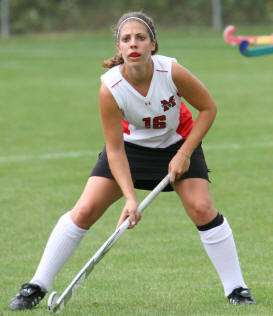 Four of Millersville's five goals came in the first half and Mansfield was not able to overcome the deficit Saturday afternoon.
Within 15 minutes into the first half, Millersville had control of the game with four goals. Kristie Testa scored the first two goals in the first two minutes of the game. Her first one was unassisted and the second came from an assist by Nicole Rayson.
Jessica Cave tacked on an unassisted goal in the fifth minute and Julia Garber finished the half for the Marauders with a goal in the 15th minute with an assist from Chelsea Smith.
Mansfield did however respond to the four goals with a goal from Jessie Wolski off an assist from Brittany Kostishion.
Then at the beginning of the second half, Beka Brown place another goal for the Mountaineers up on the board off an assist from Courtney Grunza in the 55th minute of play.
Millersville finished the game off with one last goal by Kayla Weiler with an assist from Meredith Dolinger.
The Mountaineers' record now falls to 7-10 on the season.
Brianna DeLuca had fours saves on the day while Millersville's Sara Dickinson had three.
The Mountaineers had eight shots with five on goal. Millersville had 10 shots with nine on goal.
Mansfield sees action again on Wednesday 22 when they host Bloomsburg University at 4 pm.

Field Hockey Game Summary (Final)
Mansfield University vs Millersville Univ. (Oct 18, 2008 at Millersville, Pa.)

Mansfield University (7-10) vs. Millersville Univ. (6-10)
Date: Oct 18, 2008 Attendance: 75
Weather: Breezy, a mix of sun and clouds

Goals by period 1 2 Tot
----------------------------
Mansfield University 1 1 - 2
Millersville Univ... 4 1 - 5

SCORING SUMMARY:
1. 0:29 MILL Kristie Testa (unassisted)
2. 1:25 MILL Kristie Testa (Nicole Rayson)
3. 5:39 MILL Jessica Cave (unassisted)
4. 15:55 MILL Julia Garber (Chelsea Smith)
5. 27:41 MANS Jessie Wolski (Brittany Kostishion)
6. 55:10 MANS Rebekah Brown (Courtney Grunza)
7. 62:27 MILL Kayla Weiler (Meredith Dolinger)

Shots: Mansfield University 8, Millersville Univ. 10
Saves: Mansfield University 4 (Brianna DeLuca 4), Millersville Univ. 3
(Sara Dickinson 3)