RELEASE DATE: 9/25/08
FOR IMMEDIATE RELEASE: Field hockey loses 3-0 against Kutztown University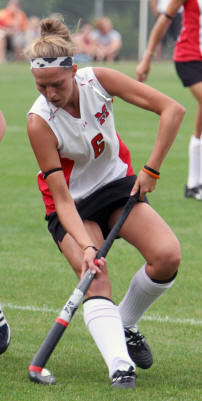 The day looked like the Mountaineer team could win the game until Kutztown scored a goal in the first half and two goals in the second half to lead them past Mansfield on Thursday evening.
Kutztown's Jennifer Belfatti was awarded a penalty stoke early in the second minute of the game and scored on the top left corner of the goal. After which the Mountaineers made three shots to achieve a score for the first half but none of which managed to find the goal.
Late into the second half, Kutztown's Anne Waapu scored off a rebounded shot from 10 yards out and then two minutes later, Abbey Sheeler received a cross pass from Kelley Healey to tip the ball into bottom right corner of the goal.
Within the two minutes, Kutztown was able to put the score too far out of reach for the Mountaineers and finished the game, winning it 3-0.
Kutztown shot 16 times with seven of the shots were saved by Mansfield goalie, Brianna DeLuca. Mansfield shot six times giving Kutztown's Emily Falko two saves.
Mansfield will have quite a long streak of away games starting with their game against Indiana University of Pennsylvania on September 27 and continuing until their game against East Stroudsburg University on October 11. The Mountaineer's next home game is on October 14, against Shippensburg University at 4 pm.

Field Hockey Game Summary (Final)
Kutztown University vs Mansfield University (Sep 25, 2008 at Mansfield)

Kutztown University (9-2) vs. Mansfield University (5-5)
Date: Sep 25, 2008 Attendance: 32
Weather:

Goals by period 1 2 Tot
-------------------------------
Kutztown University. 1 2 - 3
Mansfield University 0 0 - 0

SCORING SUMMARY:
1. 2:27 KUTZ Jennifer Belfatti Penalty stroke
2. 58:02 KUTZ Anne Waapu (unassisted) - off rebound 10 yds straight out
3. 60:16 KUTZ Abbey Sheeler (Kelley Healey) - cross from 14 in front of goal, bottom l

Shots: Kutztown University 16, Mansfield University 6
Saves: Kutztown University 2 (Emily Falko 2), Mansfield University 7
(Brianna DeLuca 7)