RELEASE DATE: 10/11/08
FOR IMMEDIATE RELEASE: Field Hockey Second Half Loss to ESU 4-2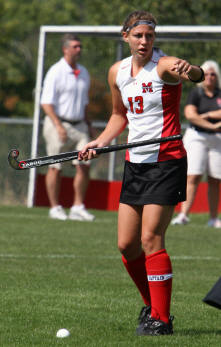 After Mansfield led in the first half, East Stroudsburg rallied up three goals to overcome the Mountaineers Saturday afternoon.
ESU got things started off a penalty corner, resulting in Joanna Reckley scoring in the sixth minute of play.
Just two minutes later, Beka Brown scored to tie the game at 1-1. Brown's goal was unassisted. Near the end of the first half, Mansfield pulled ahead when Shana Markwis scored her own unassisted goal to bring the score to 2-1 in the 34th minute.
ESU tied the game in the 44th minute off of Monica Gombita's penalty stroke. About six minutes later, ESU pulled ahead when Bittany Kocis scored a goal unassisted and four minutes after that, Devin Whalen scored off of an assist by Reckley.
Brianna DeLuca recorded seven saves against ESU's 19 shots. ESU's Carolyn Kisling had two saves off of Mansfield's seven shots.
ESU also had a winning deficient of penalty corners, 12-5.
Mansfield's next game is home against Shippensburg University. Game time is at 4 pm.

Field Hockey Game Summary (Final)
Mansfield University vs ESU (Oct 11, 2008 at East Stroudsburg PA)

Mansfield University (7-8) vs. ESU (9-7)
Date: Oct 11, 2008 Attendance: 250
Weather:

Goals by period 1 2 Tot
---------------------------------
Mansfield University 2 0 - 2
ESU.............................. 1 3 - 4

SCORING SUMMARY:
1. 6:34 ESU Joanna Reckley Penalty corner
2. 8:26 MANS Rebekah Brown (unassisted)
3. 34:45 MANS Shana Markwis (unassisted)
4. 44:43 ESU Monica Gombita Penalty stroke
5. 50:55 ESU Brittany Kocis (unassisted)
6. 54:54 ESU Devin Whalen (Joanna Reckley)

Shots: Mansfield University 7, ESU 19
Saves: Mansfield University 7 (Brianna DeLuca 7), ESU 2 (Carolyn Kisling 2)